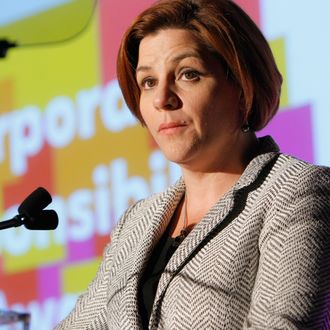 Photo: Jemal Countess/2011 Getty Images
For two and a half years, Christine Quinn has walked a difficult line on legislation to give workers in New York City paid sick leave. While the measure has wide support among liberals, Quinn has prevented it from getting a vote in City Council as she's tried to court the business community. The City Council speaker has long argued that while providing paid sick leave is "truly a noble goal," the city's economy is too fragile to push a measure that could hurt small businesses. Yet, on Thursday, Quinn's office announced that it's reached a deal that will soon require businesses with fifteen or more employees to provide five paid sick days per year, extending the benefit to 1 million New Yorkers who don't currently have sick leave.
The legislation would take effect in spring 2014, and for the first eighteen months it would only apply to businesses with twenty or more employees. Businesses with fewer employees would be required to offer five days of unpaid sick leave. Firing workers for taking those paid or unpaid sick days would be illegal. The City Council still needs to vote on the measure and Bloomberg is expected to veto it, but the New York Times reports that the Council should have enough votes to override his veto.
The Wall Street Journal notes that just last week, Quinn said that while she supports paid sick leave in theory, now isn't the right time to implement it. "For me, it is not a question of if we need paid sick leave, it is when and how that will happen," she said Friday. Quinn had been under pressure from unions and liberal advocates to allow a vote, and it's become an issue on the campaign trail, with Democratic rival Bill de Blasio and others regularly attacking her for opposing the measure. With reports that members of City Council were considering forcing a vote against Quinn's wishes, which has never happened during her time as speaker, she recently set out to make a deal.
Quinn said in a statement on Thursday, "Today, we have an agreement in principle on a bill that will provide New Yorkers with access to paid sick days and, at the same time, exempt small businesses that are least able to provide this benefit." Despite the exemption for small companies and a provision that the sick leave requirement won't be implemented in 2014 if the city's economy takes a significant downturn, the bill could still hurt Quinn's standing with business owners. It's also yet another reason for Mayor Bloomberg to be disappointed in his onetime favorite, as if their disagreements on the NYPD inspector general, the soda ban, and hot dog carts weren't enough.