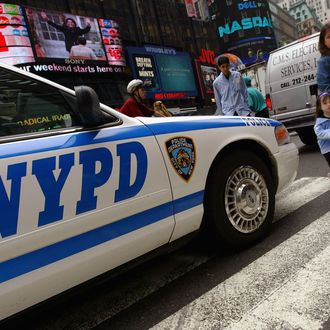 Photo: Spencer Platt/2004 Getty Images
As the NYPD goes to trial this week in a high-profile class-action suit over its stop-and-frisk program, City Council Speaker Christine Quinn announced on Tuesday that the council had reached an agreement to install an inspector general to provide civilian oversight of the department. And, the mayoral hopeful said, the plan had the votes to override a veto by Mayor Michael Bloomberg. The inspector general "would be able to issue subpoenas and look broadly at police procedures and policies," the Associated Press reports. A bill to create such a position first went before the council last June, but according to the New York Daily News, "Quinn refused to bring it to the Council floor, saying she needed to study it."
On Tuesday, Quinn came out fully in favor of the inspector general plan, telling the AP it was a "very important agreement," and saying at a candidates' forum on Tuesday night the monitor would crack down on stop-and-frisk. "We can't have a practice like this go unchecked," she said, per the Daily News. She said the monitor would "enhance the effectiveness of the department, and at the same time will increase the public's confidence in the police force, building stronger police-community relations," according to the Times.
Bloomberg, who's believed to support Quinn for mayor, has long opposed the plan. His office referred questions to NYPD Deputy Commissioner J. Paul Browne, who said, "no police department in America has more oversight than the NYPD," the Daily News reports. But, per the AP, "Quinn said she believed the council had the votes to pass the plan and override a mayoral veto, if necessary."
It wouldn't be the first time Quinn had clashed with her political backer. Just this month she went on Piers Morgan to very respectfully disagree with Bloomberg over his effort to ban large sodas in restaurants and snack bars. But given their relationship as told by New York's Jonathan Van Meter, in which he makes fun of her hair and she calls him an asshole, we're guessing hizzoner can take it.