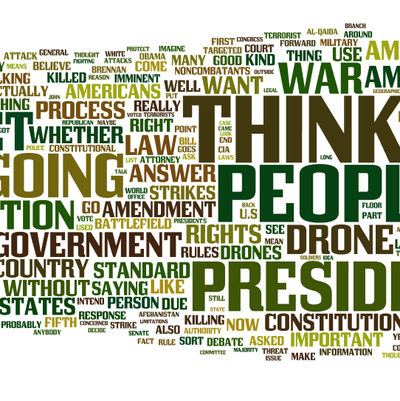 Rand Paul filibuster word cloud.
Rand Paul's twelve-hour-and-52-minute filibuster was a throwback to epic Senate speeches of years past. According to Mary Baumann of the Senate Historian's Office, Paul's filibuster — though far shorter than Strom Thurmond's infamous 24-hour-and-fourteen-minute filibuster of the 1957 Civil Rights Act — was the longest since 1992 and the ninth-longest since 1900. (Records were not kept accurately before then.)
What we're saying is that Paul said a lot of words yesterday. And thanks to a complete transcript from the Library of Congress and whichever heroic transcribers worked their asses off for thirteen hours, we've broken down his words (and only his words — not the words of any of the senators who chimed in during the filibuster) by the numbers.
76,470: total words
1,396: I
757: you
522: think
395: people
455: president, presidential

385: kill

350: drone

306: question

216: government
184: power
136: amendment
78: citizen

75: Constitution
63: Obama
61: Brennan
59: CIA
46: imagine

42: yield

41: Awlaki
40: Holder
37: free, freedom

31: 9/11 or September 11

29: Bush
29: freedom

34: Bill of Rights
27: café

24: rule of law

23: Yemen
21: liberty
18: restaurant

12: filibuster
11: Posse Comitatis
10: grenade launcher

7: absurd

6: Bowling Green

5: Hitler
5: Jane Fonda
2: Lewis Carroll

2: tired