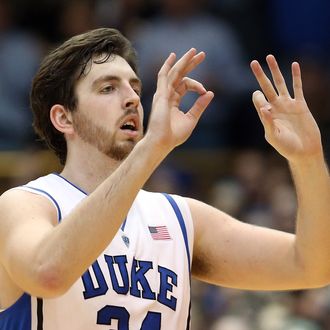 Not these guys.
Photo: Streeter Lecka/Getty Images
The glory and fun of the NCAA Tournament, for the casual fan, lies in its potential for upsets: We all want the underdog to take down the established brand names. We, essentially, want to see Lehigh beat Duke. When the tournament tips off at 12:15 this afternoon, you will be cheering for schools you've never heard of in towns you'd never dream of visiting, and it will be outstanding. But we wanted to help you, casual fan, have a better idea of just how excited to be by any potential upset on the board. We thought we'd put together a list, in order, of the most exciting teams to see win in the next two days.
Now, several factors went into the making of this list.
Historic import: No 16 seed has ever beaten a 1 seed. So that would be a big

 

deal.
Likability of the winning team: St. Louis, for a myriad of reasons, will be more fun to watch win than, say, Ohio

 

State.
Unlikability of the losing team: We're talking mostly about Duke

 

here.
Local rootability: We're aware that a ton of people we work with went to

 

Syracuse.
So, let's get to it: The 64 teams in order of enjoyment one should receive from their victory.
Albany
James Madison
North Carolina A&T
Iona
Pacific
Florida Gulf Coast
South Dakota State
Northwestern State
Valparaiso
Davidson
Belmont
Harvard
Western Kentucky
Bucknell
Southern
Butler
Akron
Montana
Syracuse
Mississippi
St. Louis
La Salle
St. Mary's
Virginia Commonwealth
New Mexico
Illinois
Villanova
Oregon
Wichita State
California
Temple
Iowa State
San Diego State
New Mexico State
Gonzaga
Creighton
Oklahoma
Colorado

UCLA

UNLV

North Carolina State
Pittsburgh
Oklahoma State
Wisconsin
Kansas State
Memphis
Missouri
Colorado State
Cincinnati
Arizona
Marquette
Notre Dame
Minnesota
North Carolina
Georgetown
Michigan
Florida
Michigan State
Ohio State
Miami (Fla.)
Kansas
Louisville
Indiana
Duke (obviously)