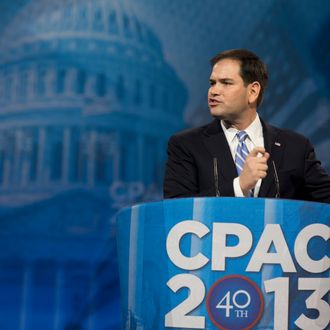 Cold, dead hands.
Photo: Corbis
Despite an emotional (if not entirely rational) appeal from President Obama yesterday, the prospects of a Senate bill pushing stricter gun-control laws continues to appear bleak. With the assault-weapons ban all but dead, even the push for better background checks, approved by 90 percent of Americans, "have so far drawn the support of only one Republican, Mark Kirk of Illinois," the New York Times notes today. Many more are promising to filibuster anything that resembles the dismantling of our freedom to own the deadliest of weapons.
The list of senators promising to block any and all restrictions now includes James Inhofe of Oklahoma and Marco Rubio of Florida, who said yesterday he will bravely stand in front of any restrictions on "responsible, law-abiding gun owners." Whereas that view may have always been calcified on the right, it's now been long enough since Newtown that lawmakers are becoming comfortable saying out loud that they are not even considering gun control.
"The notion that two months or three months after something as horrific as what happened in Newtown happens and we've moved on to other things?" countered Obama yesterday. "Shame on us if we've forgotten."
But the chances of any legislation passing are further complicated by Republican Chuck Grassley, who opposes stricter background checks, but is working on a gun-control bill of his own. "Senator Grassley, along with other concerned members, is putting together an alternative bill that addresses gun violence in a manner that doesn't violate the constitutional rights of law-abiding citizens in contrast to what appears to be in the bill proposed by the majority leader," his spokesman said. "It's not finished yet, so we aren't able to share it at this time." Holding one's breath is not recommended at this juncture.