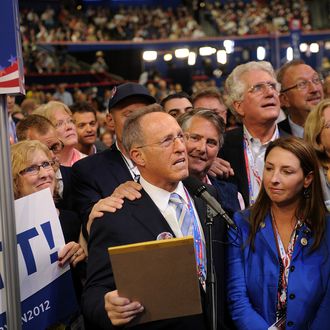 Scott Romney, brother of Republican presidential candidate Mitt Romney, center, announces Michigan's choice for presidential candidate while Ronna Romney McDaniel, committeewoman for the Michigan Republican Party, center right, listens at the Republican National Convention (RNC) in Tampa, Florida, U.S., on Tuesday, Aug. 28, 2012. Delegates are gathered in Tampa at the 40th Republican National Convention to select former Massachusetts governor Mitt Romney as their nominee for the next president of the United States.
Photo: Daniel Acker/Bloomberg/Getty Images
After mulling it over for five days, Scott Romney (Mitt's older brother), has decided not to run for the retiring Carl Levin's Michigan senate seat in 2014. But his daughter, 39-year-old Ronna Romney McDaniel, is now "looking at" running for it herself. No pressure, Ronna! Plenty of other Romneys out there.