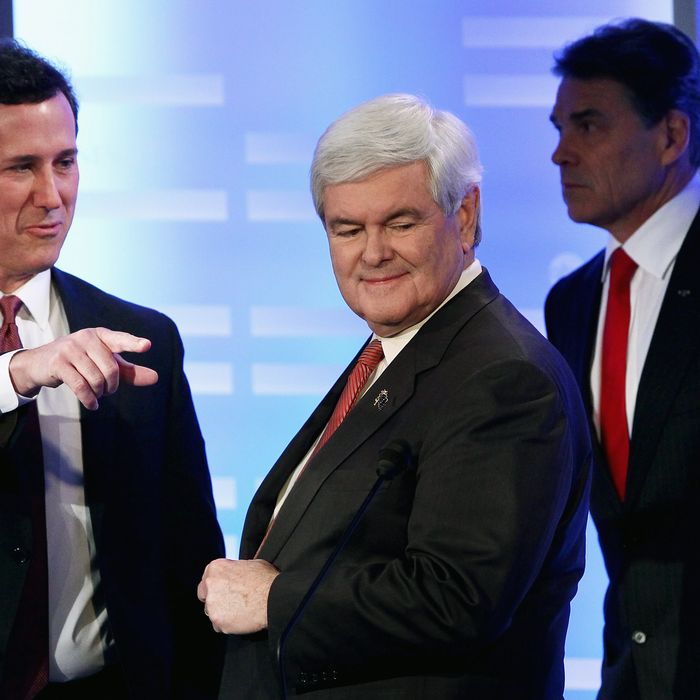 Photo: Win McNamee/Getty Images
Sometimes we are taunted by the great counterfactual possibilities of history. One of those possibilities is that Newt Gingrich and Rick Santorum, rather than dividing up the "I did not invent Obamacare, and I am also a carbon-based life form" vote, could have joined forces to possibly bring down Mitt Romney. And now, via Josh Green, it can be told: The two giants held long discussions of just such a plan, a non-Romney unity ticket.
Rick Santorum tells Green the plan "could have changed the outcome of the primary" and "could have changed the outcome of the general election." The first part is possibly true — Romney was teetering on the brink of a collapse at several points, most notably on the eve of his home state Michigan's primary, which he eked out by a 41–38 margin, and where defeat might have triggered a spiral of defections from his paper-thin base of support. The second part is possibly true or possibly false, depending on whether you define turning a four-point loss into a ten-point loss as a "different outcome."
Still, capturing the nomination on a Unity Ticket would have been interesting. But, given our current primitive gene-splicing technology, it would not have been possible to actually merge the two figures into one unstoppable helmet-haired, sweater-vested, world historical political giant with an epic Tiffany's account and a gross sexual neologism. ("Gingrum?" That's probably already the name for something disgusting.) And so, as Green details, the plan foundered on the obvious hang-up of which candidate would occupy the top of the ticket and which the bottom.
Gingrich had already suffered a total collapse of his popularity, and Santorum won more states, making him the more logical choice to head the ticket. But Gingrich "made an elaborate historical argument that when the party hasn't been able to agree on a nominee, it always settles on the senior figure."
This is not surprising: Gingrich is always making elaborate historical arguments, and they always seem to justify his political self-interest at any given moment. If Santorum were really clever, he would have accepted the vice-presidential spot and waited for the inevitable Gingrich impeachment — misappropriating funds for jewelry? starting a war with Mars without Senate approval? declaring himself president for life? all the above? — and taken over then as a comparatively reassuring figure. Sadly, the world will never know.