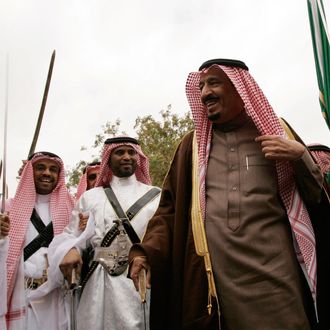 15 Jan 2008, Saudi Arabia — FILE - In this Tuesday, Jan. 15, 2008 file photo, Saudi Prince Salman, second from right, brother of Saudi King Abdullah, participates in a traditional sword dance while waiting for US President Bush at the Al Murabba Palace and Natural History Museum in Al Janadriyah, Saudi Arabia. Saudi Arabia has named a new defense minister to replace the late crown prince who held the post. King Abdullah appointed Prince Salman bin Abdul-Aziz Al Saud minister of defense and aviation on Saturday. Prince Salman replaces Crown Prince Sultan, who died Oct. 22.
Photo: Susan Walsh/AP/Corbis
Officially sanctioned beheadings still stubbornly exist in just one country on Earth: Saudi Arabia, where it is considered the "proper Islamic method of execution under the Koran," according to the Times. But do you know how hard it is to find a good swordsman these days? Really hard, apparently! So now the government is saying, you know what, just shoot 'em.