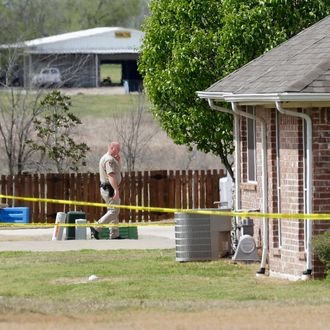 An officer walks outside the McLellands' home.
Photo: Mike Fuentes
A mostly rural county east of Dallas is on edge after a prosecutor and his wife were found fatally shot, just two months after a prosecutor from the same office was killed on his way to work. USA Today reports that friends found Kaufman County District Attorney Mike McLelland and his wife, Cynthia, dead in their Forney, Texas home on Saturday night. Assistant District Attorney Mark Hasse was shot dead in a parking lot near his courthouse office on January 31, the same day the Justice Department announced that Kaufman County prosecutors were involved in a racketeering case against the Aryan Brotherhood of Texas.
No arrests have been made in Hasse's killing, but the FBI has been investigating a possible connection to the March 19 murder of Tom Clements, executive director of the Colorado Department of Corrections, who was shot and killed after answering the doorbell at his home. Two days later Evan Spencer Ebel, a former Colorado inmate and white supremacist suspected of murdering Clements, was killed in a shootout with Texas deputies.
Two weeks ago, McLelland told the Associated Press that he thought white supremacists might be responsible for his colleague's murder. "We put some real dents in the Aryan Brotherhood around here in the past year," he said. The district attorney had warned his employees to stay alert, and said he carried a gun everywhere he went and was careful when answering the door. "I hope that the people that did this are watching, because we're very confident that we're going to find you," he said at a news conference shortly after his deputy was killed. "We're going to pull you out of whatever hole you're in. We're going to bring you back and let the people of Kaufman County prosecute you to the fullest extent of the law."
Police have increased security for local officials, but said it was too early to comment on whether there's a link to the previous murders. Mayor Darren Rozell of Forney stressed that the public should remain calm. "This appeared to be a targeted attack and not a random attack," he said.