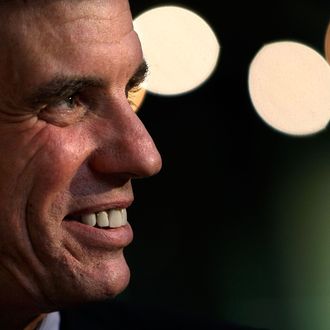 Sen. Mark Warner.
Photo: Chip Somodevilla/2008 Getty Images
Along with Hillary Clinton, a slew of Republican political figures, and fellow Senators Rob Portman and Claire McCaskill, Mark Warner has had a recent change of heart on same-sex marriage, and he managed to get the word out just a day before the Supreme Court will begin hearing arguments on the issue. The Virginia senator has supported some gay rights issues in the past, so his switch isn't all that surprising. However, it is interesting, since unlike many newly proclaimed marriage equality supporters, he's up for reelection 2014.
Earlier this month, Warner signed a Supreme Court brief from members of Congress opposing the Defense of Marriage Act, but as BuzzFeed notes, even then a spokesman would only say that his "thinking on that is evolving" when asked if he supported legalizing same-sex marriage. Warner announced his new stance in a Facebook post on Monday afternoon:
I support marriage equality because it is the fair and right thing to do. Like many Virginians and Americans, my views on gay marriage have evolved, and this is the inevitable extension of my efforts to promote equality and opportunity for everyone. I was proud to be the first Virginia governor to extend anti-discrimination protections to LGBT state workers. In 2010, I supported an end to the military's 'don't ask, don't tell' policy, and earlier this month I signed an amicus brief urging the repeal of DOMA. I believe we should continue working to expand equal rights and opportunities for all Americans.
Arguments are set to start shortly after 10 am tomorrow, so any lawmakers who don't want to appear behind the times have about 12 hours to update their Facebook pages.
Update: We have another late entry. Though Alaska Sen. Mark Begich did not join the anti-DOMA Supreme Court brief signed by other Democratic senators, he said on Monday night that he supports marriage equality. His office provided this statement to BuzzFeed:
I believe that same sex couples should be able to marry and should have the same rights, privileges and responsibilities as any other married couple … Government should keep out of individuals' personal lives—if someone wants to marry someone they love, they should be able to. Alaskans are fed up with government intrusion into our private lives, our daily business, and in the way we manage our resources and economy.