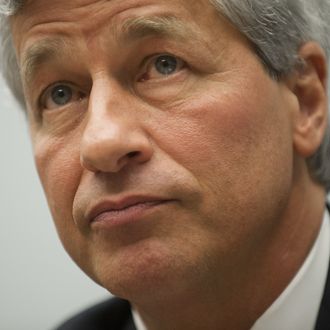 Jamie Dimon, who will enjoy not making this face tomorrow.
Photo: SAUL LOEB/AFP/Getty
Senators had an opportunity to reprimand JPMorgan CEO Jamie Dimon over the "London Whale" trades when he testified before Congress in June, and on Thursday they ripped the bank again, this time in a scathing 300-page report. An investigation by the Senate Permanent Subcommittee on Investigations found that the bank misled investors and regulators while losing $6.2 billion in the trading debacle. The report says Dimon briefly tried to withhold information from the bank's regulator, the Comptroller of the Currency, and suggests that executives knew about the massive losses even as Dimon dubbed them nothing but a "tempest in a teapot."
The report doesn't accuse JPMorgan or its executives of breaking the law, but John McCain, who sits on the panel, said Wall Street should still see it as a warning. "JPMorgan and the banking industry need to know that they're not too big to fail, they're not too big to manage and they're not too big to jail," he said.
The bank took issue with the suggestion that it purposely misled investors. "While we have repeatedly acknowledged mistakes, our senior management acted in good faith and never had any intent to mislead anyone," JPMorgan said in a statement. "We know we have made many mistakes … . We have taken significant steps to remediate these issues and to learn from them."
Several JPMorgan officials will testify before the subcommittee on Friday, including Ina Drew, the former chief investment officer who presided over the trades. Dimon will not be among them, as he's already endured two Congressional grillings on the matter.