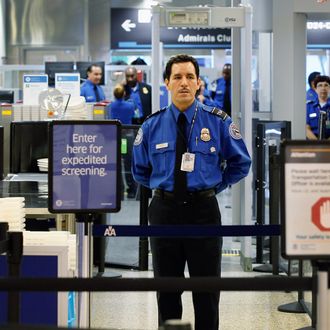 Photo: Joe Raedle/2011 Getty Images
The TSA rule change set for April 25 not only allows sporting goods like ski poles and golf clubs onto planes, but it also covers the tiniest of pocketknives, no larger than 2.36 inches long and a half-inch wide and without a locking blade. In other words, not so scary. But both Congress and flight attendants are freaking out, which would make more sense if the seemingly arbitrary rules didn't already allow scissors, screwdrivers, and sewing needles.
Businessweek reports that TSA head John Pistole deemed confiscating 2,000 knives a day a huge time-suck considering the other approved items, but the Association of Professional Flight Attendants called it "insanity," while the Coalition of Flight Attendant Unions has been protesting at large airports and started a White House petition (37,609 signatures and counting).
"The new rule does not make sense for combating potential terrorist attacks nor the daily disturbances we handle by de-escalating conflicts or asking passengers to help us contain problems," the group claims, while everyone against the plan points out that the 9/11 hijackers used box cutters (still banned).
Congress is looking to block the change, which Representative Michael Grimm of Staten Island said "was done without any rhyme or reason and without consulting stakeholders, like members of Congress, flight attendants and air marshals and the general public. I don't know which is more idiotic — the policy or the process." To recap: scissors, yes; bottle of water, no. Nothing makes sense.