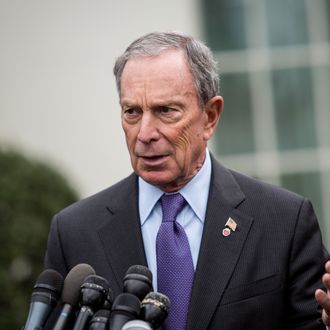 "Come on."
Photo: Drew Angerer/Getty Images
Less than a day until a controversial ban on certain large sugary drinks (commonly but misleadingly known as the "soda ban") was to go into effect, New York Supreme Court Judge Milton Tingling has struck down the new regulations in a bombshell ruling that will make it slightly easier for people to drink large quantities of soda. In his ruling, Tingling says that the ban went too far and not far enough. Too far, because, in his opinion, the Board of Health overstepped its powers: 
In his ruling, Judge Tingling found the Board of Health's mission is to protect New Yorkers by providing regulations that prevent and protect against diseases. Those powers, he argued, don't include the authority to "limit or ban a legal item under the guise of 'controlling chronic disease.'"

The board may supervise and regulate the city's food supply when it affects public health, but the City Charter clearly outlines when such steps may be taken: According to Judge Tingling, the city must face imminent danger due to disease.

"That has not been demonstrated," he wrote.
"The Portion Cap Rule, if upheld, would create an administrative Leviathan" and "eviscerate" the separation of powers doctrine, Tingling writes. At the same time, Tingling also ruled that the ban was also unlawful because it only affected some beverages, and left others untouched: 
In his opinion, Justice Tingling specifically cited a perceived inequity of the soda rules, which applies to only certain sugared drinks — for instance, beverages with a high milk content would be exempt — and would apply only to some food establishments, like restaurants, but not others, like convenience stores.
Bloomberg plans to appeal the ruling (in New York, the deceptively named Supreme Court is actually not the, uh, supreme court). But for today, at least, the most powerful man in New York City isn't Michael Bloomberg, but a judge with a funny name. 
Updated, 6:20 p.m.: Appearing before reporters at City Hall just now, Bloomberg said that Judge Milton Tingling's decision was "clearly in error" (or "erruh" in Bloomberg's thick accent), and he's "confident that today's decision will ultimately be reversed." Hizzoner cast the battle over the legality of certain large sugary drinks as a moral struggle. "It's not enough to talk, and it's not enough to hope," Bloomberg said. "We have a responsibility as human beings to do something, to save each other." That has certainly been Bloomberg's philosophy as mayor.