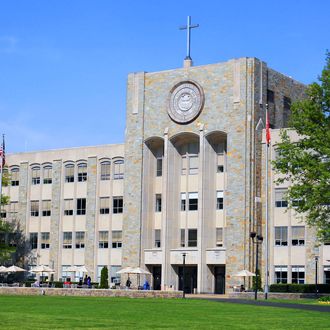 Rob Wile, chief of staff to the president of St. John's University, was a central figure in the scandal involving Cecila Chang, the corrupt former dean, benefiting from his relationship with her. (See "The Dean of Corruption.") Wile also benefited from no-interest loans from others connected to the university. According to sources, Wile solicited — and received — a $100,000 loan from the former chairman of the St. John's Board of Trustees and an $80,000 on from a contractor who did work for the university. Wile used the loan from the former Chair to help fund a real-estate venture with university president Father Donald Harrington, his boss. Neither loan was disclosed to the board of trustees at the time they were made.
"It's unprecedented, unethical, and might even be illegal," said Jeffrey Sonnenfeld, a dean at the Yale School of Management. Sonnenfeld said the failure to disclose the loans might violate laws aimed at guaranteeing the independence of the board.
In 2006, GRH Group LLC, a partnership of Wile and Harrington, bought a property in the Jersey shore town of Rumson. (Wile and Harrington's business relationship was not reported to the board either.) That year, Harrington recommended that Wile receive a bonus to his salary in the form of a $100,000 no-interest loan from St. John's. That loan was approved by the board's audit and compensation committee, though the committee didn't know about the GRH partnership.
The Rumson house was a teardown, and Wile, GRH's managing member, appeared to be strapped for cash, according to sources. In 2007, Thomas McInerney, co-founder of private-equity firm Bluff Point Associates, and then chairman of the board as well as one of the university's largest donors, loaned $100,000 to GRH to keep the project going.  
"That's a gross conflict of interest. It's irresponsible. It's completely wrong," said Sonnenfeld. "You don't see stuff like this except in corrupt companies."  ("GRH has nothing to do with St. John's," a university spokesperson said.) McInerney chaired the board to which Harrington reported, and Harrington supervised Wile. "You can't provide independent oversight of an employee when you have a business partnership concealed on the side," said Sonnenfeld.
In 2008, Harrington recommended Wile for another interest-free loan, this one for $250,000. It was approved by the audit committee — at the time, McInerney was a voting member of that committee. Despite the loan, in 2009, Wile was apparently in another financial bind. The stock market had crashed and he was in the midst of renovating his family's new home in Haworth, New Jersey. Wile knew David Belt, founder of DBI, a well-respected construction and consulting firm that had done work for St. John's. They serve together on the board of Bread and Life, a St. John's charity — McInerney also serves on the board. Wile explained his situation, and Belt agreed to give him a bridge loan until Wile could finish construction and refinance the house — Belt made a personal loan for $80,000 and didn't charge interest. Belt asked Wile if he had disclosed the loan to the university, and Wile assured him that he had. Harrington was told, but the board of trustees wasn't informed at the time.
By 2009, Wile was not only the university president's chief of staff but also vice-president for institutional development, and, at St. John's, a difficult person to criticize. "The problem is who Rob represents," said an investigator. "He has the muscle of Father Harrington behind him." Belt's company at the time was not doing much work for St. John's and a subsequent investigation found no evidence that DBI benefited from the relationship with Wile. "Still, it's an unquestionable ethical issue," said Sonnenfeld.
GRH paid back McInerney after the sale of the Rumson property in 2008. But Belt had trouble getting repaid. In 2010, Wile made $549,000 in total compensation. But it was not until 2012, after the Belt loan came to light in official circles, that Wile agreed to pay it back. Neither Wile nor McInerney responded to several attempts to reach them.