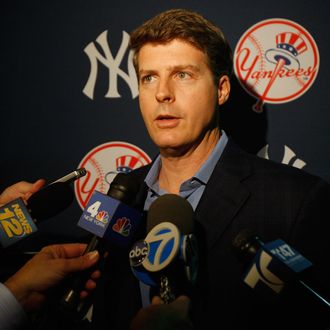 Words words words.
Photo: Mike Stobe/Getty Images
If there were ever a time for a Steinbrenner Moment for the New York Yankees, it's right now. The team is shedding payroll like they're the freaking Mets, it had gaping holes all over the lineup before spring injuries to Mark Teixeira and Curtis Granderson, and there's a nagging sense that this might be the first season since 1992 that the Yankees won't finish .500. This is exactly the time that George Steinbrenner would have shown up and put a boot in someone's ass. Now, that boot probably wouldn't have been helpful — in fact, it was when Steinbrenner put that boot away that the Yankees started that winning streak in the first place — but it would have been entertaining. So the Daily News' Mark Feinsand yesterday did his best to create one: He talked to George's son Hal. Surely it was time for a blowup.
It was a good idea, because if you were ever going to get a "WE DEMAND CHAMPIONSHIPS NO MATTER WHAT WE'RE YANKEES DAMMIT" screamfest, if Hal had that ounce of George blood in his system, you'd get it. But it's probably time to just accept, once and for all, that despite Hal and Hank having the Steinbrenner name, the age of Steinbrenner is over. The interview confirms what everyone has always suspected: These kids are boring as hell.
The interview basically reads like a PR for Dummies test run. Hal Steinbrenner had Yankees PR chief Jason Zillo with him throughout the talk, and you can sense Zillo's calming, competent "just make no news" vibe behind every answer. Hal seems like a nice enough fellow, and reasonable, which is exactly not what you want from a Steinbrenner owner. He's a company man. Check out some of these answers:
On A-Rod and PED users in the Hall of Fame: "I haven't really thought about that. There's no doubt it's going to be a debate for many, many, many years to come."
On potential contract negotiations with Derek Jeter: "He's been one of the greatest Yankees in the history of the franchise, everybody knows that. He's a great, great person. Of course we hope he ends his career here."
On being a Steinbrenner: "I'm a pretty introverted guy. It's just not something that I've ever wanted, to be out there in the spotlight. That's not me."
We'd quote some more, but we just fell asleep. Listen, no one begrudges Hal Steinbrenner for being a quiet person who doesn't want to start, say, hiring private investigators to follow his players. (As a random example.) In fact, all told, he sounds like a pretty normal guy, particularly for a Steinbrenner. But he's never going to be his father. This is probably a good thing. Can we accept now that Feinsand has asked him all the right questions, and he bit on none of them, that the Steinbrenner age is over? The Yankees are a lot of things — more than anything, these days, they're smart — but the days of reckless proclamations from the guy in the skybox and the win-at-all-costs, championships-or-nothing are over. Sticking a microphone in the face of a guy just because he shares some DNA with the loony bully who used to be in charge — and appears to have accordingly learned several lessons on what not to do — isn't gonna bring them back. The Yankees are just another team now. We think this is a good thing; you might not. But no matter what: Wishing them back isn't going to work. Let the poor guy collect his trust fund in peace, okay?