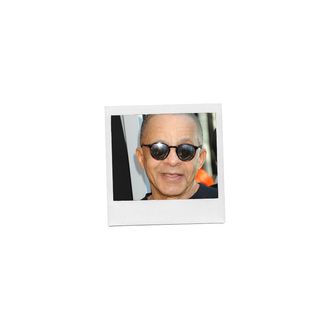 Name: Stephen Burrows
Age: 69
Neighborhood: Harlem
Occupation: Fashion Designer. Stephen Burrows: When Fashion Danced, a retrospective of his work, is currently on view at the Museum of the City of New York.  
Who's your favorite New Yorker, living or dead, real or fictional?  
My mother, Octavia Banks. A sweet, loving, and funny woman.
What's the best meal you've eaten in New York? 
The lobster special at Carmine's, which I had for the first time ten years ago. It's huge and it costs next to nothing.  I try to have it as often as I can, but it's only served on Sunday and Monday.   
In one sentence, what do you actually do all day in your job?  
Sketching, draping, making patterns, fabric shopping, doings fittings, and whatever else it takes to make the collection (the past two months, they also included working with my fabulous curators, Phyllis Magidson and Daniela Morea, at the Museum of the City of New York).
What was your first job in New York?  
I was a display person in New York at the Pantone Display Company in 1965, which entailed making displays for projects.  I would construct boxes, sets and other display items for retailers, designers, and anyone else who placed orders. The company would tell me what the clients wanted made and I would execute it. That fall, I got so busy making clothes I never went back.
What's the last thing you saw on Broadway?  
Aida. I appreciated Elton John's lyrics and especially like the lead, Heather Headley.
Do you give money to panhandlers?  
Sometimes. When they have children with them.
What's your drink?  
Champagne.
How often do you prepare your own meals? 
Three to four times a week.  I like to experiment with food and tastes that I discover in restaurants, particularly fish.   
What's your favorite medication?  
Champagne.
What's hanging above your sofa?    
A photograph by my best friend Charles Tracy, whom I've known for 45 years. It was taken in 2006 and it's one of my favorites. It's me in a suit and I almost never wear suits, and I am standing in front of a piece of chiffon. I love the juxtaposition of the masculine dress with feminine fabric.  
How much is too much to spend on a haircut?    
I cut my own hair! I will continue cut it until I am too old to do it myself. 
When's bedtime?   
When I get sleepy. Usually around 11 p.m.
Which do you prefer, the old Times Square or the new Times Square?   
The new Times Square.  The old Times Square was kind of awful. It was dirty, crowded, unattractive, and felt very unwelcoming.  Today, Times Square is so much cleaner and exudes a positive energy. I love the hubbub of the theater, tourists, and shopping.  The only thing I don't like is the bicycle lanes.
What do you think of Donald Trump?   
Nothing good.
What do you hate most about living in New York?  
Bad air. The air is polluted.  Typically, I do not go to parks as I find them to be polluted as well. After all, it's all the same air.  Unfortunately, I do not get out of the city as much as I probably should, but I love New York.  
Who is your mortal enemy?   
Sewing. I can't sew a straight line.
When's the last time you drove a car?   
Three years ago, summer at the beach in Belmont, New Jersey, where I have relatives.  
How has the Wall Street crash affected you?   
Not much.
Times, Post, or Daily News?  
Post, although I don't agree with their politics.
Where do you go to be alone?   
My bedroom.
What makes someone a New Yorker?  
That they can't be away more than four days. I hate to be away from the city for more than four days.  I get New York fever.