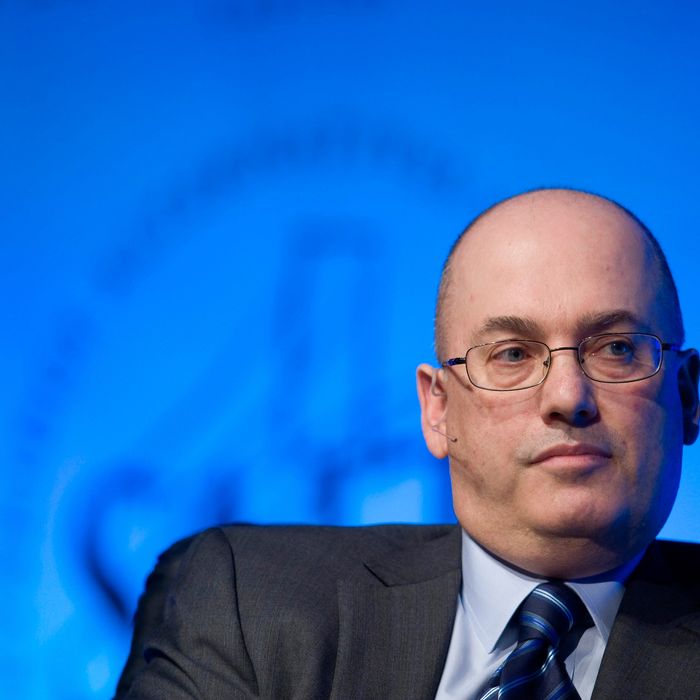 Steve Cohen
Photo: STEVE MARCUS/Reuters/Corbis
For Steve Cohen, the art-collecting billionaire who runs mega-hedge-fund SAC Capital, every week brings some fresh ups and downs. That's the nature of being a rich, eccentric trader whose fortunes ebb and flow with the markets.
But this week, after agreeing to settle with the SEC and pay a roughly $600 million fine for insider-trading allegations, Cohen's topsy-turvy life got kicked into overdrive. If you're anyone else on the planet, a huge, record-breaking insider trading fine paid out of your own pocket is reason to put your head down and stay out of the spotlight. If you're Steve Cohen, it's a chance to perk up, spend some dough, and show the world your YOLO spirit is still intact.
Here's how Cohen's week went:
Monday: SAC Capital, Cohen's fund, buys a 5.3 percent stake in a coal mining company based in Alabama. Why? Why the hell not.
Tuesday: The New York Post reports that Cohen bought Le Rêve, a Picasso masterpiece previously owned by casino mogul Steve Wynn, for $155 million. The story describes the purchase as a bit of post-settlement retail therapy — " Steve bought 'Le Rêve' as a gift to himself," a source tells the paper — but the SEC got Cohen's middle-finger message loud and clear.

Wednesday: The New York Times reports that Cohen also picked up a $60 million house in East Hampton, down the road from his old Hamptons pad. The Realtor's listing details the features of the new house: "High ceilings, antique oak and limestone floors, barn-style double-height family room, media room, large oceanview master suite plus six additional bedrooms." Cohen will need two of those bedrooms to hold his massive cojones.
Thursday: U.S. District Judge Victor Marrero tries to rain on Cohen's weeklong parade. Judge Marrero, who is supposed to approve the SEC-SAC insider-trading settlement, announces that he'll need more time to decide whether or not it passes muster, since he finds it "counterintuitive and incongruous" that SAC is allowed to pay $600 million to make the case go away without admitting or denying any wrongdoing.

Friday: Good Friday brings more bad news: SAC portfolio manager Michael Steinberg, who has worked under Cohen since 1997, is cuffed in his Park Avenue home and arrested in connection with the insider-trading case. Steinberg, who is suspected of having traded Dell shares on inside information back in 2008, is the most senior SAC trader to get ensnared in this mess. And even though Cohen saw this coming — and is probably picking out paint samples in East Hampton, rather than worrying about Steinberg's arrest too much this morning — he's probably looking forward to this weekend more than most.