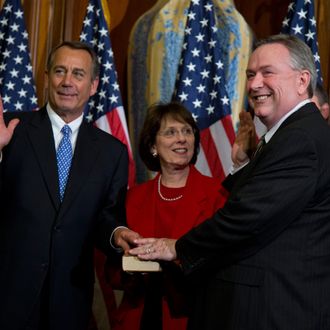 Twitter genius Steve Stockman.
Photo: Evan Vucci/AP/Corbs
In just a few short months in office (he also served for two years in the nineties), Texas congressman Steve Stockman has made a name for himself by inviting Ted Nugent to the State of the Union address and threatening to impeach President Obama. But beyond a tweet last week, in which Stockman claimed that "the best thing about the Earth is if you poke holes in it oil and gas come out," the 56-year-old Republican hasn't received nearly enough credit for the consistent greatness of his Twitter account, surely the most underappreciated in Congress. We've combed through Stockman's archives to bring you his 23 very best/worst tweets ever, a tour de force of smug, partisan trollishness.
[Slow clap.]