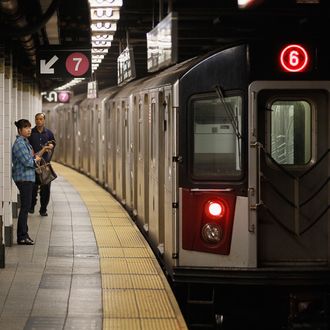 Photo: Joe Raedle/2011 Getty Images
Lawmakers are still just threatening to crack down on filthy cabs, but the MTA is already making progress. AM New York reports that a survey conducted by the Straphangers Campaign found that platforms were in better condition last year than in 2011, with significant reductions in exposed wiring, staircases and handrails in disrepair, broken lights, and major floor cracks. However, there have been increases in water damage and graffiti (though the MTA denies it). 
Jason Chin-Fatt, who oversaw the survey, applauded transit employees but said there's still room for improvement. "There's no reason, for example, that riders should have a one in 10 chance of seeing a rat while waiting for a train," he said. We counter that sharing the subway with rats is preferable to an above-ground ratpocalypse.