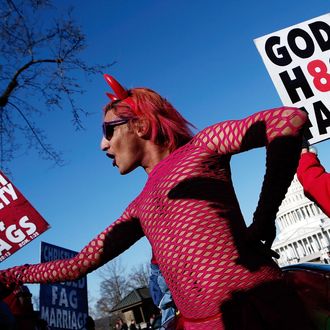 Photo: Win McNamee/Getty Images
Round two of gay marriage arguments at the Supreme Court are scheduled to start this morning at 10:15 a.m. in United States v. Windsor, which will explore the constitutionality of the Defense of Marriage Act. The 1996 law defines marriage as between a man and a woman when it comes to federal benefits, so even in states that allow gay marriage, same-sex couples are at a disadvantage. While yesterday's oral arguments on Prop 8 left experts thinking the law will not be upheld, first impressions (which have been wrong before) also indicated that the court does not seem ready to make a sweeping decision on the right to marry for the entire country. Narratively, for the momentum of the gay rights movement, that makes DOMA more important, but the consequences are still fewer.
The New York Times has a simple FAQ on today's case and is sure to note, "Should the court strike [DOMA] down, same-sex couples in the nine states that allow such unions, along with the District of Columbia, would start to receive federal benefits. Such a ruling would not require other states to allow same-sex marriage."
As with the Prop 8 case, there are questions of standing, since the Obama administration has declined to defend the law and believes it unconstitutional. (Bill Clinton, who signed it into law, doesn't like it anymore either.) A group of House Republicans are instead fighting in defense of DOMA, but the court must decide if they have the jurisdiction to do so. In the worst-case scenarios for equal rights, the court could uphold the law, or punt, an "unlikely option," according to the Times. "That would, as a practical matter, probably mean that the Obama administration, relying on decisions from the two federal appeals courts, would stop enforcing the law," which would be good, but not great.
But something resembling a conventional wisdom is that the law is doomed, as a Times op-ed argued last year, calling the case Brown v. Board of Education for gay rights. As usual, Justice Anthony Kennedy is expected to be the deciding vote. "[DOMA] presents a narrower question — the constitutionality of a single federal law, as opposed to the marriage laws in the forty-one states that do not currently have same-sex marriage," writes Jeffrey Toobin at The New Yorker. "That's a more tempting (and distasteful) target for the liberals and certainly for Kennedy himself. It may be that the Court has determined to strike down DOMA, and leave the broader issue of requiring same-sex marriage for another year."