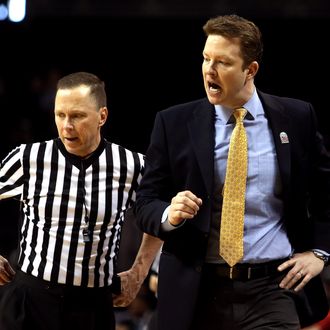 This Richmond coach is not happy.
Photo: Mike Lawrie/Getty Images
The college basketball landscape in New York City is about to change with the exit of the Catholic 7 from the old Big East to the new one, forever changing the Big East Tournament, probably for the worse, maybe a little for the better. (Sure, you'll miss Syracuse — unless of course the ACC ends up playing at MSG in a few years, which is always the rumor — but it's not like Georgetown-Butler won't be fun either.) But let's not forget the other conference tournament going on in NYC this weekend. Whatever changes the Big East tourney is going through, the bigger deal is that now NYC has two tourneys.
While the rest of you were getting all nostalgic about the Big East, we spent all day and night yesterday at Barclays Center for the Atlantic-10 tournament. It was terrific fun. The A-10 is an odd little conference this season, with a few teams that have been in the league forever (Massachusetts, George Washington), a few teams trying to establish themselves (Virginia Commonweath), a few established teams about to leave (Temple, Charlotte, maybe St. Louis), and a team that's very possibly only going to be around for one season (Butler). No one is quite sure what the A-10 will look like in coming years — it is committed to Barclays for the next three years — but this year, this tournament, it's fantastic.
You have four teams locked into the tournament and just fighting for seeding in St. Louis, VCU, Butler, and Temple, and you have three teams desperately trying to sneak in the tournament in La Salle, Charlotte, and Massachusetts. And you have loyal, devoted fan bases like Dayton, St. Joseph's, and Richmond checking out the new arena and eating all the food. (The A-10, mercifully, is one of those conferences that allows arenas hosting their tournaments to sell beer. We are glaring in your direction, Big Ten.)
And it's going on all day. Yesterday was particularly fun, with four terrific games highlighted by Richmond's meltdown loss to Charlotte. The Spiders led by three points with less than five seconds to go, so Richmond coach Chris Mooney ordered his team to foul Charlotte guard Pierria Henry so that a three wouldn't tie the game. He hit his first free throw, but on the fight for a rebound, a Richmond player was called for a technical foul. That's a crucial call — and to our eyes, the right one — and Henry ended up shooting three more, hitting them all. That gave Charlotte the lead, so Mooney ordered his guys to foul on the inbound, but Henry threw up a crazy halfcourt shot on the foul and it ended up being called a shooting foul. (A terrible call.) Mooney, understandably considering the situation, exploded, and he ended up being called for a technical foul, and then another one. The refs all got together and did the math and realized Henry now had seven more free throws to shoot. (He hit four.) In the span of about two seconds, a three-point Richmond lead became a five-point Richmond loss. It was amazing. We have never seen anything like that.
The A-10 tournament has so much weirdness, and so many eclectic, diverse fan bases (today, a team from St. Louis will play a team from Charlotte, and teams from Indianapolis and Richmond will play two from Philadelphia) that we find the tournament just irresistible. You can have your Syracuse-Georgetown nostalgia tonight at the Garden; that will no doubt be giddy fun, albeit a bit weepy. We'll take the weirdness and randomness of the A-10 tourney. It's not every day you see someone take eleven free throws in a row. No matter what: It's a wonderful time to be a college basketball fan, in New York City. Leave work and come out to Barclays today — the best two games are the first two — and then head to MSG tonight. We're lucky to have the opportunity.