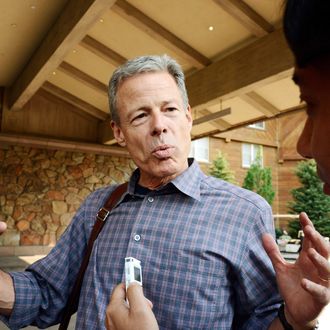 Photo: Kevork Djansezian/Getty Images
The executive casualty of Time Warner's failed attempt to sell its magazines to Meredith, and the subsequent decision to spin off Time Inc., is Laura Lang, who started as CEO on the publishing side barely a year ago and definitely won't run the new company. But absorbing most of the blame for what will be an extended period of uncertainty at the venerable print giant is the man at the top, Time Warner CEO Jeff Bewkes, who would rather not focus on magazines and hasn't found the right person for that burden. "Jeff and [Time Warner CFO] John Martin hate the publishing business, are bad leaders themselves and recognize they made another bad hire," a dagger-wielding "insider" told the Post's Keith Kelly, who called the Lang hire "disastrous." Now it's time to try again.
Before Lang, who previously ran an ad agency and had no publishing experience, Bewkes hired Jack Griffin, who made it only five months and was publicly pushed out for not fitting with the Time Inc. culture. After two flops in a row, Bewkes is suddenly charged with filling the spot again, sooner rather than later, and for an even tougher job as the publishing side stakes out on its own.
"Jeff Bewkes doesn't care about Time Inc. and investors don't either — they've wanted him to dump it forever," writes Peter Kafka of All Things D. For all the similar struggles at News Corp., which is also dividing its most profitable assets from its print products, their distinct advantage is one of the heart: Rupert Murdoch loves his newspapers. Bewkes needs more than a stand-in, he needs a savior.