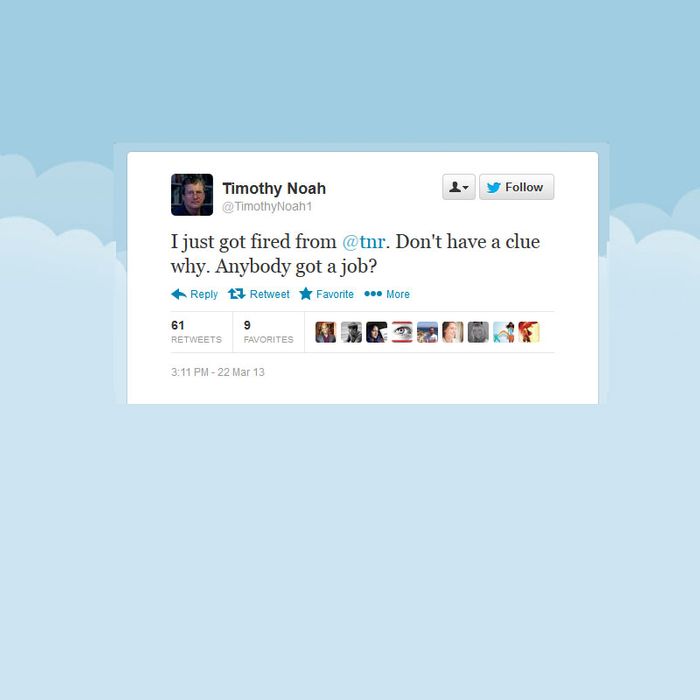 This is how a blindsided member of the media can make the most of a bad day.
A well-regarded columnist and health-care expert, Timothy Noah was laid off from Slate amid budget cuts in 2011, but landed at The New Republic soon after, replacing our own Jonathan Chait under editor Richard Just. Soon after, when the magazine was purchased by Facebook co-founder Chris Hughes, Just was caught off guard when he was swapped out for former TNR editor Franklin Foer.
As Carl Swanson wrote late last year in New York, "[Just] had misunderstood Hughes's intentions. Which were to be hands-on. Hughes ordered the presses stopped on the first issue because he found the cover line too unserious ('Cry Babies,' for a story about Wall Street turning on Obama). He wrote the editorials and took up the restaffing of the magazine himself, sidelining Just."
Noah told the Washington Post that Just's firing was "weird" because he had helped Hughes purchase the magazine. "I was very dismayed to see Richard fired," Noah said at the time, "and I was very happy to see Frank hired. The net result was perfect neutrality."
"All I got was your column isn't a good fit for the direction the magazine is going in," said Noah today to the Huffington Post. "I'd prefer not to speculate because it would sound unattractive." He did say he doesn't expect the front-of-the-book TRB column to continue.
In a statement, Foer said, "Tim Noah has been a strong voice for liberalism and a rigorous columnist for The New Republic. We've appreciated his passion and contribution to the magazine over the past two years and wish him the very best."