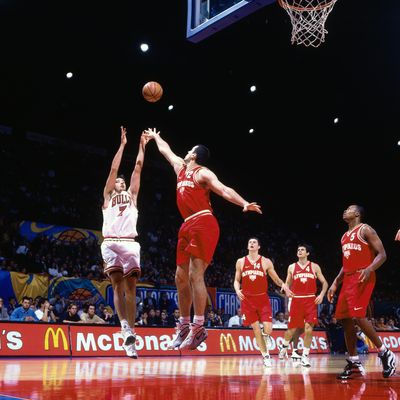 Toni Kukoc at the 1997 McDonald's Championship in Paris.
Photo: Lou Capozzola/NBAE/Getty
It's a testament to the absurdity of our world that Dennis Rodman, of all people, is now something of an unofficial go-between for North Korean boy-king Kim Jong Un and the United States government. What made it all possible, of course, was Kim Jong Un's obsession with the nineties Chicago Bulls. But what hasn't received much attention is that Rodman isn't even the first player from that legendary team to meet Kim Jong Un, according to a 2009 Washington Post story about the future dictator's years at a Swiss boarding school, which he attended under the alias Pak Un between 1998 and 2000:
At his spacious apartment on Kirchstrasse, said one friend who visited, Pak Un had a room filled with American basketball paraphernalia. He proudly showed off photographs of himself standing with Toni Kukoc of the Chicago Bulls and Kobe Bryant of the Los Angeles Lakers. It is unclear where the pictures were taken. On at least one occasion, a car from the North Korean Embassy drove Pak Un to Paris to watch an NBA exhibition game.
Nothing else is known about how Kim Jong Un came to meet Kukoc or Bryant. Asked via e-mail today if he could remember anything about the encounter, Kukoc, a Croatian-born small forward who helped the Bulls to three championships, enthusiastically told Daily Intelligencer, "No, not really, maybe it was McDonald's tournament in Paris! I don't recollect anything else!" This is understandable, as Kim Jong Un was just some random Korean kid at the time, not the world's only twentysomething with a nuclear weapon. (Asked how it felt to know that he met a child who would become North Korea's dictator, Kukoc told us, "[I] have no opinion about it!")
However, documents indicate Kim Jong Un lived in Switzerland starting in 1991, and since he is known to have gone to Paris to watch basketball at least once, the 1997 McDonald's Championship in Paris — a tournament in which the Bulls participated — is not a bad guess. (It's not clear when or where Kim would have met Bryant. A communications rep for the Lakers says they have no idea, and we have yet to hear back from Bryant's agent.)
Either way, it's funny to think that maybe Kim Jong Un is slowly collecting encounters with members of the late-nineties Bulls. Maybe when he completes the set he'll agree to disarm.