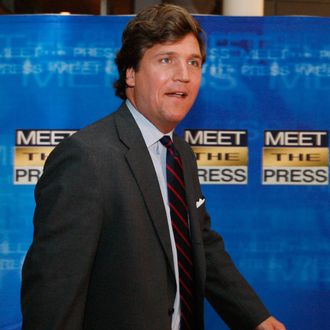 Photo: Charles Dharapak/AP/Corbis
The finger-pointing over just who made up the story that Senator Bob Menendez of New Jersey slept with prostitutes in the Dominican Republic and why continues today, with an admittedly shady Dominican lawyer passing the hot potato back to Tucker Carlson. According to the Washington Post, via local law enforcement, the attorney Melanio Figueroa said someone claiming to be from Carlson's Daily Caller website paid him to find and compensate women who were willing to lie on-camera about Menendez. (A video of two women claiming they'd been paid for sex by the senator was posted on the Daily Caller before November's elections.) Carlson denies the conspiracy, but not that he'd pay for a story.
Figueroa did initially say he had no role in concocting the prostitute smear plot, but has since told the police he was approached by a man named "Carlos" on behalf of the Daily Caller. Presumably at some point someone motivated him, financially or otherwise, to find the women and make the false tape, but following the money hasn't yet led anywhere definitive.
"At no point did any money change hands between The Daily Caller and any sources or individuals connected with this investigation, nor did anyone named Carlos travel to the Dominican Republic on behalf of The Daily Caller," the site said. Carlson added in a statement that the site "never paid anyone, was never asked to pay anyone and of course never would pay anyone for this story."
But that's careful wording — this story, not a story — because Carlson is assumed to have paid for another failed October surprise in the form of a non-event Barack Obama video that everyone had already seen. While neither widely dismissed exposé helped to defeat the targeted candidate, the Menendez story would have been the better investment. At least people are still talking about it.