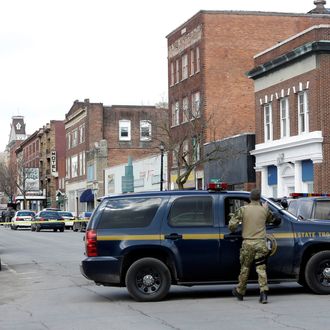 Officers block off Main Street in Herkimer, N.Y. while searching for Myers.
Photo: Mike Groll
Nearly a full day after a man opened fire at a car wash and a barbershop in upstate New York, killing four people, the gunman was reportedly killed in a standoff with police. The suspect, Kurt Myers, hid in an abandoned building in Herkimer, NY on Wednesday afternoon and shot at officers, who returned fire during a prolonged shootout. Hundreds of officers surrounded the building, and early on Thursday morning they were still periodically blaring sirens and attempting to convince Myers to surrender. Governor Cuomo, who is in Herkimer, said authorities still don't know what sparked the shooting spree. "There's no apparent motive to the best of our knowledge at this time to provoke these attacks," he said.
This post has been updated throughout.