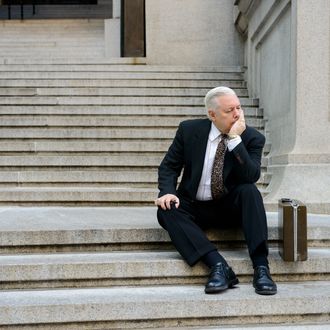 Can you imagine? Driving my OWN CAR.
Photo: ? Corbis. All Rights Reserved.
It's been tough times in the financial industry of late. And you might not have known it, but Wall Street bankers are struggling! Why, some of them have even had to make drastic changes to the ways they're accustomed to living. No more private helicopter rides to and from the gym. No more huge expense accounts blown on Beluga caviar and Dom Perignon 1966. (Sevruga caviar and Clos Du Mesnil 1995, maybe.)
It's hard to navigate the world of the normals after a life spent among the financial elite. So many chores! So little hired help! Luckily, a few brave souls were willing to share their advice for penny-pinching one-percenters.
The resulting list from eFinancialCareers, "Twenty money-saving tips from bankers and their wives," is a gem for the ages. It includes tips like:
Start traveling like a goddamned peasant:
Eli Lederman, a former managing director at Morgan Stanley who has reinvented himself as an author, said he's ditched business class flights. "I still go to New York  five or six times per year, but now I forego business class to travel in premium economy," he said.
Tell your woman her chore checklist just got longer:
Another banker, who used to work at Goldman Sachs and now runs his own business, said he gets his wife to iron his shirts nowadays. "At Goldman there was a service in the basement where I dropped my shirts off for a fee, but now I ask Jane to do it for me," he said.
Cut back on your warmth for fellow man:
"Stop carrying a wedge of cash around with you," said the ex-Goldman banker. "It reduces the temptation to tip people so much."
Give Gstaad a rest:
"I took the family skiing with Power Byrne last year and spent £13k," one hedge fund manager told us. "It was great – they take the kids away from you in the morning and only return them in the late afternoon, but you pay for that kind of attention."

There are cheaper alternatives. This year, the hedge fund manager told us he's looking at cheaper deals with Iglu Ski or Inghams, both of which offer bargain last minute deals. "This is what everyone is doing," he said. "Everyone's going down market."
"Sell the Second Home": Our list-maker tells us this "isn't happening much yet" — which, thank GOD.
Test the boundaries of child labor laws:
In the UK, the government says teenagers can start working from age 13, at which point they can start working 12 hours a week or 25 hours a week during school holidays. In the US, the Fair Labor Standards Act says students can work from age 14 and that 14-15 year-olds can work 18 hours a week during school times and 40+ hours a week during holidays … One ex-banker told us she'd encouraged her teenagers to get weekend jobs.
Learn to do a thing that humans have literally been doing for millennia with no problems whatsoever:
"I cook every night now," boasts one ex-trader. "Since I left banking I've become very house-trained. I used to cook a bit, but at the bank I was always out, entertaining clients. That's changed a lot — I'm home early now and can make food from scratch."
It's distressing, all this quoditian hand-wringing from our global financial elite, who doubtless have better things to do with their Harvard-trained gray matter than take basic self-sustenance measures. Still, with tips like these, and your thoughts and prayers, we're sure they'll soldier on somehow.