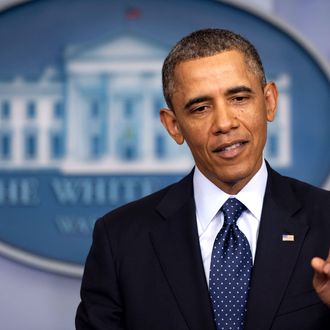 … President Obama's approval rating.
Photo: Saul Loeb/AFP/Getty Images
On Friday, after weeks of partisan finger-pointing and nonexistent negotiations, President Obama finally signed an order mandating $85 billion in government spending cuts. Though the sequester is a slow-burning kind of  budgetary crisis, its effects were already being felt in a variety of places this weekend. Here are some examples of the kind of story we'll be hearing all day, every day until Congress figures out a deal: A massive road-clearing operation in Yellowstone National Park has been postponed; the Navy's decided against sending a second carrier to the Middle East and will begin idling four air wings next month; the Army said that it began curtailing training for 80 percent of its soldiers; possible FAA furloughs in California are already threatening the shutdown of up to eleven air traffic control towers in and around Los Angeles; and millions of government employees are already preparing for possible one-day-a-week furloughs starting in April. But perhaps the most significant cut so far is to President Obama's approval rating, which dropped four points (to 47 percent) in Gallup's Friday poll.