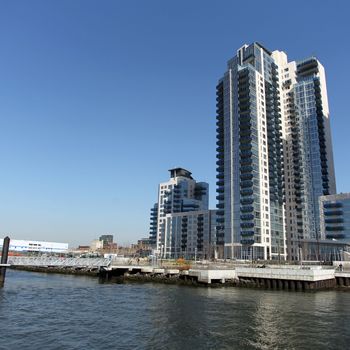 The Edge in Williamsburg.
Photo: Butterworth / Splash News / Corbis
The scene was unintentionally ironic at a Film Forum showing last week of Gut Renovation, a documentary decrying Williamsburg's latest phase of gentrification by former 'Burger Su Friedrich. Friedrich's film has basically one coherent message: "You kids get out of my neighborhood!" And yet the crowd was composed of people Friedrich might consider prime offenders: young whites clad in plaid and oversize glasses who moved to Williamsburg, or somewhere like it, more recently than she did.
To Friedrich, gentrification is fantastic when the new arrivals are artists and their apartment is a converted factory. But after Williamsburg's 2005 rezoning brought new luxury buildings, gentrification became a nuisance to her, displacing longtime residents and bringing in rich people with small dogs. Friedrich points her camera out her window, documenting that the demolition and construction going on about her is unpleasant and that the developers and new arrivals wear fancy clothes. Then she shares the stories of a few painful evictions, including her own. Her observations are both obviously correct and completely unoriginal. But Friedrich aspires to make a larger argument: that allowing developers to construct new buildings is what ruined the neighborhood. If this argument strikes you as oversimplified, it should. And yet the film has received favorable reviews in the Atlantic Cities and the New York Times and an audience award at the Brooklyn Film Festival.
The same case against zoning is made in My Brooklyn, a movie that just completed its third weeklong run at reBar in DUMBO. My Brooklyn documents how a 2004 rezoning in downtown Brooklyn led to demolitions and rising rents around the Fulton Mall, which had for decades been a thriving hub of African-American and Caribbean-American commerce and culture. Unlike Gut Renovation, My Brooklyn is a serious exploration of the community. Whereas Friedrich thinks Williamsburg was invented the day she arrived and no one was displaced before 2005, My Brooklyn's director Kelly Anderson digs into the history of the neighborhood before gentrification, using striking old photographs and illuminating interviews with people who grew up there. 
The stories of displaced individuals or businesses in both films can be moving. But as policy reporting or argument, they conflate cause and effect. Tall luxury apartment buildings go up in neighborhoods where rich people want to live. This creates the false impression that development causes gentrification, when it's actually the other way around.
If you didn't allow developers to build new housing, Friedrich and Anderson suggest, you would not displace the preexisting communities. It's true that increasing the population of rich white people causes nearby commercial rents to go up and longtime businesses to get pushed out. 
But for housing, Friedrich's and Anderson's analysis is backward. Escalating demand for housing in Williamsburg and brownstone Brooklyn was already increasing prices. Expanding the supply with new buildings helps prices rise more slowly, not more quickly. So when Anderson bemoans being priced out of Fort Greene, she should not blame the hideous Avalon Fort Greene luxury tower, where studios fetch $2,455 — if anything, it just kept the yuppies from venturing farther into Brooklyn.
The real culprits are harder to identify than a few rich developers and their odd-looking new buildings: economic inequality, and the hordes of young migrants who come to the city seeking fame and fortune, just like Anderson and Friedrich once did.