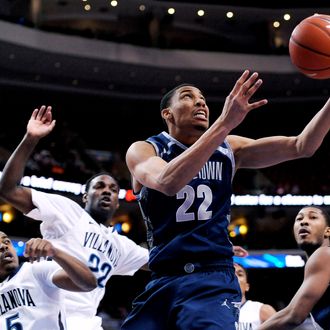 Georgetown and Villanova will both be a part of the new Big East.
Photo: Michael Perez/AP/Corbis
There exists a certain type of sports fan who greatly prefers college basketball to college football. In fact, if you grew up in a part of the country where college football wasn't a way of life — New York City, for instance — it's possible you have little interest in it at all, despite its enormous popularity elsewhere. There's a path to college football for those who grew up in a place like New York — it usually goes through South Bend or some other town with a big-time program — but the path toward indifference is well-traveled. And for those of us who grew up with college hoops but not college football, the current NCAA landscape — in which football is king — is thoroughly depressing. Which is why the launch of the new Big East Conference is such a welcome development.
In case you haven't been following along — and for your sake, I hope you haven't been trying to — the college sports landscape has been changing rapidly in recent years, as conferences realign and schools get grouped together in new and often illogical ways. The driving force behind this is college football, and more specifically, the money associated with college football. But it's not the financial aspect of this that should bother anyone; by now, we should all recognize that college sports are one big money grab. (Heck, even the original Big East Conference was founded as a collection of teams that would be attractive to broadcasters, thus leading to a payday for the schools.) But these days, football seemingly has all the power, determining what happens even at schools with outstanding basketball programs, not to mention the fate of teams in literally every other college sport. Hoops junkies may understand why this is the case, but they should hate that balance nonetheless.
It's a result of this system that schools like Georgetown, Villanova, and St. John's have become afterthoughts in the realignment game. No one cared to poach them, because they don't have big-time football programs. (Villanova has flirted with the idea of making that leap in football, but remains an FCS program.) Meanwhile, the Big East was collapsing around those schools — chasing institutions with football programs from all over the country to replace the ones that left, while assembling something that would have unrecognizable to a Big East fan from the glory days of the 80s. Syracuse and Pitt were jumping to the ACC, and even later additions to the conference had left (West Virginia) or were planning to leave (Rutgers).
Eventually, the seven remaining Big East schools without FBS football programs banded together and announced they'd leave the conference en masse and start one of their own. The so-called Catholic 7 (all the schools that fit this criteria are Catholic institutions) would then invite other basketball-first schools to join their new conference. (They're reportedly set to add Butler, Xavier, and Creighton any day now.) The end result would be a collection of like-minded schools without football programs, arranged into a conference that's built around basketball. Those of us that didn't go to Michigan or Alabama or Texas, or grow up in a place where college football is huge (like Michigan or Alabama or Texas, for instance), can't stand how powerful college football has become. And so the new Big East — the Catholic 7 bought the name to use for their new conference — pushes back against that. It's symbolic, but it also creates what should be a really fun on-court product (not to mention one that's actually pretty attractive to broadcasters).
This isn't to say that there aren't already conferences where basketball is top dog. The current Atlantic 10 more or less fits that criteria: They added Butler and VCU this season to a stable that included programs like Xavier and Saint Louis. (Meanwhile, Temple — a school with an FBS football team — is departing for the conference formerly known as the Big East.) But the new Big East will have an higher national profile, with traditionally strong programs like Georgetown and Villanova. Right now, the six so-called power conferences are the ones involved with the silly college football BCS. But the new Big East will be a basketball powerhouse, and it doesn't need the endorsement of the BCS to earn that label.
I suspect that supporters of the schools not joining the new Big East are going to be jealous. Syracuse is off to the ACC because of football television revenue, but it means major changes for the men's basketball team, which, let's be honest, is the school's highest-profile program. (A short list of unfortunate changes: They'll no longer be in a conference with rival Georgetown, and they'll no longer play in a conference tournament at Madison Square Garden, as they have for decades.) Rick Pitino, the coach at Louisville (which is also leaving for the ACC), hasn't hidden his disgust for what's been happening in the NCAA. Said Pitino after news broke that the Catholic 7 were leaving the Big East:
"It's not something I enjoy looking at," Pitino said in the news conference. "Although we're very pleased to be part of the Atlantic Coast Conference, I think what's happened has been extremely disturbing…all because people are running around with helmets."
Pitino is a basketball guy, and even as an employee of a school with an FBS football program, is sympathetic to his fellow basketball guys. Said Pitino at the same news conference:
"Two months ago I was (having) a conversation with John Thompson and Jay Wright," Pitino explained. "I told them, you guys are going to break away and get fed up with all this. They looked at me and I said, 'it should have happened a long time ago.'
Maybe he's right and this should have happened long ago, but in any case, it's finally happening now. Better late than never.