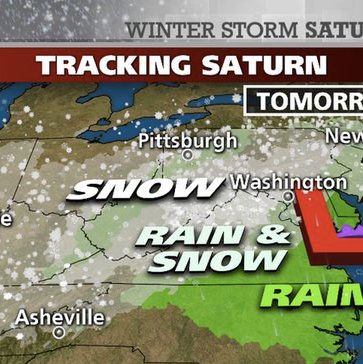 Photo: The Weather Channel
After so much success dubbing the last pretty standard snowfall "Nemo," thus making the lines at the supermarket extra long, the Weather Channel is trying to recapture the magic with the latest storm sweeping across the country. Winter storm Saturn will drop most of its snow across the Midwest in the next 48 hours before combining with a coastal storm late on Wednesday. But don't worry about a Frankenstorm or snowpocalypse or any other ominously named portmanteau (Saturn it is), because by the time it hits New York City, forecasts so far warn mostly of wetness.
There is the possibility of high winds and flooding, always a concern in the post–Hurricane Sandy era, as explained by the National Weather Service:
A NOR-EASTER WILL DEVELOP ALONG THE MID ATLANTIC COAST EARLY WEDNESDAY. THE STORM WILL INTENSIFY AS IT SLOWLY TRACKS EAST THROUGH THURSDAY.

FORECAST UNCERTAINTY SURROUNDS THE EXACT DETAILS OF HOW THIS STORM WILL EVOLVE…BUT THE POTENTIAL EXISTS FOR WIDESPREAD MINOR TO LOCALIZED MODERATE COASTAL FLOODING…HIGH SURF AND SIGNIFICANT BEACH EROSION ALONG THE OCEAN FACING BEACHES…AND STRONG WINDS WITH GUSTS BETWEEN 40 AND 50 MPH.

WHILE THE CURRENT FORECAST KEEPS SNOWFALL AMOUNTS BETWEEN 1 AND 2 INCHES…THERE IS A CHANCE FOR HIGHER ACCUMULATIONS…MAINLY WEDNESDAY NIGHT.
The all-caps make it seem more dramatic than it is. NBC NY's meteorologists note, "Temperatures are not expected to fall below 40 degrees during the anticipated storm Wednesday and Thursday, which is why some models predict mostly rain for the city at this time." But it's weather, so things can change! At which point, we'll all freak out.
Update: Apparently Washington, D.C. is going with "snowquester," which … they would.