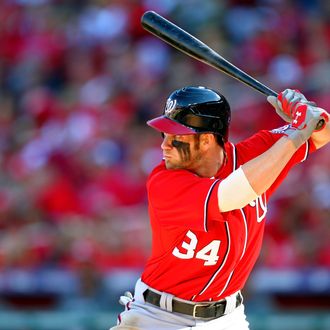 Your 2013 NL MVP.
Photo: Dilip Vishwanat/Getty Images
After previewing the Mets on Wednesday and the Yankees yesterday, we're all set for our overall MLB predictions today. (The season begins Sunday night, with the Texas Rangers playing the Houston Astros on ESPN.) But before we do that, a note on Johan.
The Mets announced last night that Johan Santana will have yet another surgery on his left shoulder, ending his season and his Mets career. It's certainly possible this is the end of Santana's entire career; two surgeries on the same throwing shoulder is never good. But for now, we'll concern ourselves just with his Mets career.
The team's ownership, which will pay him $31 million this year, has given him the following amounts of money per each baseball activity:
Per strikeout: $228,785.36
Per start: $1,261,467.89
Per win: $2,989,130.43
So, yikes. But there was the small business of that no-hitter. Was it worth it? $137.5 million for that Mets moment? Some might argue yes. The Mets have certainly spent their money worse elsewhere.
Anyway: On to the predictions. We've added up all the games to make sure the math works out, which should not be confused with anything slightly resembling accuracy.
AMERICAN LEAGUE
East
New York Yankees                                    89-73
Tampa Bay Rays                                       88-74
Toronto Blue Jays                                    84-78
Boston Red Sox                                         82-80
Baltimore Orioles                                     72-90
Central
Detroit Tigers                                            89-73
Kansas City Royals                                   81-81
Cleveland Indians                                    78-84
Chicago White Sox                                   74-88
Minnesota Twins                                     65-97
West
Los Angeles Angels of Anaheim            91-71
Texas Rangers                                           90-72
Seattle Mariners                                       77-85
Oakland Athletics                                     76-86
Houston Astros                                         62-100
NATIONAL LEAGUE
East
Washington Nationals                            101-61
Atlanta Braves                                            90-72
Philadelphia Phillies                                 78-84
New York Mets                                           77-85
Florida Marlins                                          67-95
Central
Cincinnati Reds                                          95-67
St. Louis Cardinals                                     90-72
Milwaukee Brewers                                    82-80
Pittsburgh Pirates                                       78-84
Chicago Cubs                                               76-86
West
San Francisco Giants                                89-73
Los Angeles Dodgers                                 84-78
Arizona Diamondbacks                            81-81
San Diego Padres                                       76-86
Colorado Rockies                                       68-94
AL MVP: Robinson Cano, NY Yankees
AL CY YOUNG: Felix Hernandex, Seattle
AL ROOKIE OF THE YEAR: Jurickson Profar, Texas
NL MVP: Bryce Harper, Washington
NL CY YOUNG: Clayton Kershaw, Los Angeles
NL ROOKIE OF THE YEAR: Shelby Miller, St. Louis
PLAYOFFS
AL WILDCARD: Tampa Bay over Texas
NL WILDCARD: Atlanta over St. Louis
ALDS: LA Angels of Anaheim over Tampa Bay, Detroit over NY Yankees
NLDS: Washington over Atlanta, Cincinnati over San Francisco
ALCS: LA Angels of Anaheim over Detroit
NLCS: Cincinnati over Washington
World Series: LA Angels of Anaheim over Cincinnati
Season starts in, like, 55 hours, you guys.