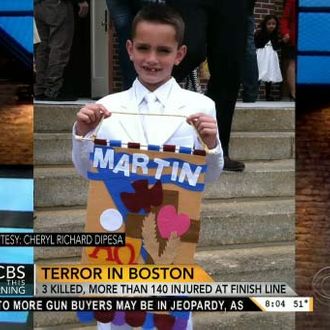 The first casualty of the twin explosions in Boston yesterday has been identified as Martin Richard, an 8-year-old who, according to neighbors, loved to climb trees, ride his bike, and play baseball. He was at the finish line to cheer on his dad, who was racing. Alongside Martin when the blast tore through the crowd was his mother, who was admitted to the hospital with a "serious" brain injury, and his 6-year-old sister, who lost a leg. According to the Globe, a third sibling was uninjured.
Last night, residents of Dorchester, where the Richard family lives, gathered at Tavolo Restaurant to remember Martin. "It's surreal, it's tragic," City Councilor Ayanna Pressley said. "It's incomprehensible."
"My dear son Martin has died from injuries sustained in the attack on Boston," Bill Richard said in a heartbreaking statement today. "My wife and daughter are both recovering from serious injuries. We thank our family and friends, those we know and those we have never met, for their thoughts and prayers. I ask that you continue to pray for my family as we remember Martin.'"
A pair of brothers, 31 and 33 years old, were standing next to the Richard family. They work as roofers, although both had recently been laid off. Each of them lost a leg from the knee down. One brother's girlfriend "suffered serious burns and other injuries," the Globe reports. "I feel sick," their mother, Liz Norden, said at the hospital yesterday. "I think I could pass out."
A second victim was identified on Tuesday afternoon: 29-year-old Krystle Campbell, of Medford, Massachusetts. "My daughter was the most lovable girl. She helped everybody and I'm just so shocked right now. We're just devastated," her father told Yahoo News. "She was a wonderful, wonderful girl. Always willing to lend a hand."
The third casualty was a graduate student of Boston University whose name has not yet been released. 
This post has been updated as more information has been released.