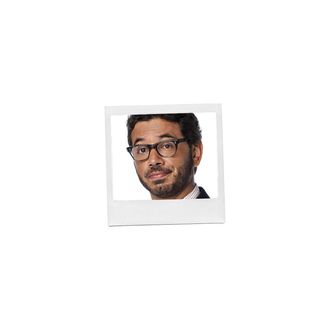 Name: Al Madrigal
Age: 41
Neighborhood: Dumbo
Occupation: Comedian; Daily Show Correspondent. On Friday, April 26, you can catch the premiere of his one-hour stand-up special Why Is the Rabbit Crying on Comedy Central. 
Who's your favorite New Yorker, living or dead, real or fictional?
Comedian Tom Papa. Hilarious comic, good dude, and I really don't know that many people.
What's the best meal you've eaten in New York? 
Went to Neta the other night on West 8th. Food, service, and cocktails were all top notch. 
In one sentence, what do you actually do all day in your job? 
I bullshit on the phone all day with a variety of people discussing various projects, and occasionally write jokes.
What was your first job in New York? 
Daily Show … this is 
What's the last thing you saw on Broadway? 
Annie. I have a 7-year-old daughter who loved it and a 10-year-old son who will never admit to liking anything involving girls.
Do you give money to panhandlers? 
Yes, but I have a very tough missing-limb, no-drugs system that very few qualify for.
What's your drink? 
I like bourbon, any other detail beyond that is going to make me seem like a drunk.
How often do you prepare your own meals? 
Never. Well, once I fried tofu and put Sriracha on it. After that I was so depressed I swore off preparing food for myself altogether.
What's your favorite medication? 
Omega-3 fish oil and bourbon are as close as I get to meds.
What's hanging above your sofa? 
A digital projector. 
How much is too much to spend on a haircut? 
Anything over $40. I go to a place in Dumbo that charges $18; the tradeoff is that they bad-mouth me in Russian.
When's bedtime? 
Midnight.
Which do you prefer, the old Times Square or the new Times Square?
New Times Square. I'll always choose the cleaner, newer option.
What do you think of Donald Trump? 
I think he's hilarious. I know that's not what he's going for … but he's adorable in an evil Muppet sort of way. 
What do you hate most about living in New York? 
My credit card bill.
Who is your mortal enemy? 
Kobe Bryant.
When's the last time you drove a car? 
Last weekend when I jacked some fool for his ride.
How has the Wall Street crash affected you? 
What year is this?
Times, Post, or Daily News?
All three every day.
Where do you go to be alone? 
I'm always alone. Sad face emoticon. 
What makes someone a New Yorker? 
Headphones, a MetroCard, and a smile that says, "I will stab you with this pen in my pocket."