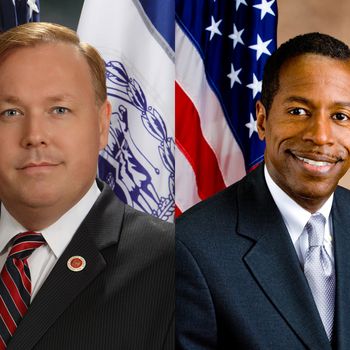 Photo: New York City Council, New York State Senate
A Norse-god-worshiping city councilman who lobbed inflammatory, unsubstantiated charges of a plowing slowdown during the 2010 blizzard and a shady Queens state senator who has been investigated in relation to every New York political corruption scheme short of the purchase of Manhattan from the Indians: Ladies and gentlemen, we give you the masterminds of a plot to steal the 2013 mayor's race.
Alleged plot, that is. Dan Halloran and Malcolm Smith were among six people arrested by the FBI early this morning, charged with trying to rig the run for City Hall. The specifics of the case are deeply weird, but no one should be surprised that these two are caught up in something strange. Halloran had most recently been investigated for campaign finance irregularities in a 2012 Republican bid for Congress; Smith had been entangled in everything from a dubious attempt to bring a casino to Queens to the alleged misuse of charitable donations intended for victims of Hurricane Katrina.
So what's the political fallout? Though today's charges center on the mayor's race — and the nuttiest thing may be that Smith thought he needed to bribe people to get on the Republican ballot, when the city party has been desperate to find a candidate — the ramifications could be greatest in Albany.
Smith, a world-class opportunist, had defected from the mainstream Senate Democrats to join the Independent Democratic Coalition, which allied itself with Senate Republicans to form a leadership alliance. Smith wasn't a central part of the team — his main value was to provide a modicum of racial diversity — but the coalition has been a fragile construct. It worked well during the just-finished budget negotiations, delivering most of Governor Andrew Cuomo's agenda. Now Smith's arrest will revive talk of the Albany cesspool, and shake up the leadership structure a bit.
How much, however, depends on whether Smith is the only state legislator implicated.