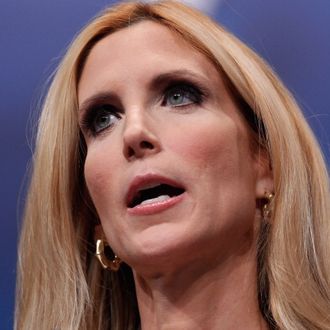 Somewhere, even in Fox Nation, there is a line. And Meghan McCain is pretty sure Ann Coulter crossed it when she joked, in a blog post that appeared on Fox Nation's site, that McCain ought to be killed. Coulter is hardly a comedy genius, and it's kind of generous to call the quip a "joke," but obviously she's not serious: "MSNBC's Martin Bashir suggested that Republican senators need to have a member of their families killed for them to support the Democrats' gun proposals. (Let's start with Meghan McCain!)" McCain, who made her distaste for Coulter public years ago, is pissed.
The excerpt published on Fox came from a longer post on Coulter's own blog referencing a segment with Martin Bashir on MSNBC in which Bashir spoke to Rep. Elijah Cummings, a Democrat from Maryland, about Republicans' plan to filibuster a gun control bill. Cummings's nephew was shot and killed in a 2011 murder that has gone unsolved, and he was making the point to Bashir that violence can touch anyone. Coulter, like others in the fringe right-wing media, only paid attention to this part though:
"But Congressman," Bashir said, "is that what needs to happen to move these senators to stop threatening a filibuster? Is that really what needs to happen? That you need to have a member of your family killed in order for you to do what the American people want you to do?"

"I hope not," Rep. Cummings replied. "I don't wish this pain on anybody."
Not exactly a call for people to go murdering the families of politicians, but that's how some are taking it. And Coulter, predictably, is among the most vitriolic of those. She has had nasty things to say about McCain ever since McCain's 2009 takedown of her in The Daily Beast.
When McCain found out about the joke (or at least when she first acknowledged it on Twitter), she was not pleased:
The fact that Coulter took a pot shot at McCain in the press is hardly surprising, given their animosity. The fact that she insinuated people should take pot shots at her rival in real life? More so.