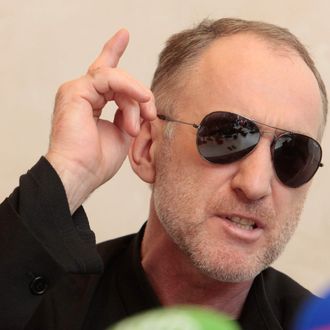 Anzor Tsarnaev.
Photo: Musa Sadulayev/AP/Corbis
If you just can't get enough of Anzor Tsarnaev and Zubeidat Tsarnaeva, the conspiracy-crazed parents of suspected Boston bombers Dzhokhar and Tamerlan, you're in luck: Both may be coming to the United States in the coming days. 
Father Tsarnaev is definitely making the trip from Russia, where he lives, reportedly either today or tomorrow. The purpose of the trip appears to be multifold. He wants to "find out what happened with his sons, defend his hospitalized 19-year-old son Dzhokhar and if possible bring his older son's body back to Russia for burial," the AP reports, although he apparently won't be allowed to see his son in the hospital. Tsarnaev also "may be bringing along important information for the investigation into the April 15 marathon bombings," according to CNN. One thing he definitely won't be doing is carrying out a terrorist attack.
"I don't have any bad intentions. I don't plan to blow up anything," Tsarnaev promised, for some reason, during a press conference today. 
As for Zubeidat, it's not clear at the moment whether she'll be coming as well. Ria Novosti, a Russian news outlet, reported that both parents would make the trip. CNN reports that Tsarnaeva won't, and the AP says she's "still thinking it over."
Complicating her decision may be the outstanding warrant for her arrest for stealing $1,600 of merchandise from a Lord & Taylor in 2012. But Tsaenaeva says "she has been assured by lawyers that she would not be arrested," so perhaps it's simply the specter of a classic American media clusterfuck that gives her pause.