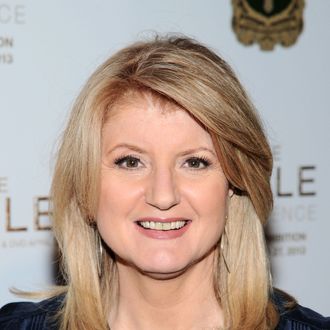 Photo: Ilya S. Savenok/Getty Images
Blog god Arianna Huffington is now embroiled in a legal fight her website would love to affix with an all-caps headline if it weren't about the boss. According to the New York Post, a new lawsuit alleges Huffington left the 4,400-square-foot Chelsea apartment she was renting in awful condition, including bloody mattresses, "gouged, stained and otherwise damaged" walls, and "scratched, punctured" wood floors, for a total of $275,000 in damages.
"Every single claim in this suit is false except the square footage and the address," Huffington told Daily Intelligencer in a statement. "Eric Steel, who happily renewed the lease twice and visited the apartment multiple times, is holding onto $93,000 dollars in deposits, which he has refused to return. He is obviously trying to extort more money from me by making ludicrous claims to the NY Post. It won't work."
According to Steel's suit, "Huffington was using the apartment for large parties and business functions in breach of the sublease and Huffington's promises," and letting her daughters stay there, too, despite agreeing to be the only occupant. "The [Charles Gwathmey] designed, custom made dining room table was damaged and scratched and the finish compromised," according to the paperwork. "It had to be crated, hoisted out of the apartment and repaired by the original manufacturer."
Gwathmey, a famous architect, also happens to be the owner's stepfather. In 2002, Steel wrote about how much the loft, and Gwathmey, meant to him for the New York Times:
The loft says a great deal about Charles's work and about how I want to be seen, but more significant, it intones chords about me, my personality and my aspirations in ways that words probably cannot. Perhaps that is why living in a space designed by Charles Gwathmey is such a life-affirming or life-altering proposition. It can be very risky. I've been incredibly lucky. In forgoing the wrestling, in carving the loft to its very core, Charles and I discovered what we had been seeking all along: the most solid, luminous embrace of father and son.
The place, apparently still inhabitable, is available for $27,000 per month.