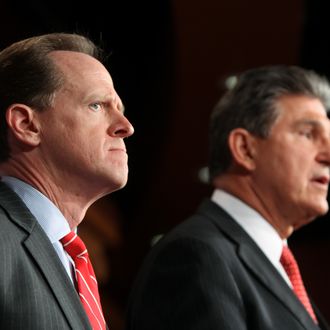 Their best wasn't good enough, 'cause here we are right back where we were before.
Photo: Allison Shelley/2012 Getty Images
As expected, a bipartisan proposal to expand background checks to include gun shows and Internet sales failed to achieve the necessary 60-vote threshold in a Senate vote this afternoon. The Democrats only lost four members (red-staters Mark Begich, Mark Pryor, Heidi Heitkamp, and Max Baucus), but there just wasn't enough support from the Republicans, as only four of whom (John McCain and Susan Collins, in addition to Toomey and Kirk) voted in favor. Along with a procedural "no" vote from Harry Reid (which leaves him the opportunity to hold a new vote at some point), the amendment was blocked on a 54–46 vote. 
After Newtown, there was hope that "this time would be different," that a shocking massacre of children would finally force America to get serious about gun violence. Manchin-Toomey barely nudged the needle in that direction — it merely posited that before you buy a gun, there should be a way to make sure you're allowed to own it. The proposal was so mild and commonsense that up to 90 percent of Americans, including the vast majority of gun owners, supported it. But it was still a bridge too far for the GOP. 
This time isn't different, and it's hard to imagine it ever being so. But in a statement released after the vote, Mayor Bloomberg vowed to try. "The only silver lining," the statement read, "is that we now know who refuses to stand with the 90 percent of Americans – and in 2014, our ever-expanding coalition of supporters will work to make sure that voters don't forget."
Update 5:42 p.m.: An assault-weapons ban, much like the one that existed between 1994 and 2004 and was supported by President George W. Bush, was just voted down 60–40. 
Update 5:52 p.m.: A visibly angry President Obama just made a statement on the background-check vote in the White House Rose Garden. He slammed the NRA and its allies for lying about the bill and expressed exasperation that a minority of senators blocked such a broadly popular proposal. "The American people are trying to figure out, how can something have 90 percent support and not happen?"
"All in all," Obama said, "this was a pretty shameful day for Washington."