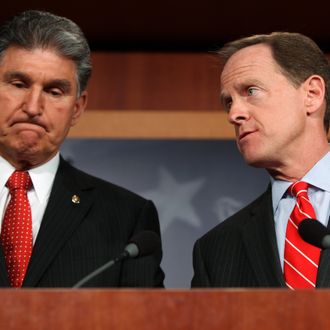 Photo: Allison Shelley/2012 Getty Images
The main component of the gun-control bill currently struggling in the Senate — the part with 90 percent public approval — is not going to pass, at least not today. Senator Joe Manchin of West Virginia told NBC this morning that his bipartisan amendment, which doesn't even make background checks universal, "will not get the votes today," requiring them to try, try again. That is, it will likely have to be weakened from its already weak state.
As Jonathan Chait wrote Monday, "Real Gun Control Never Had a Chance": "The illusion of movement and progress has disguised the fact that the expected value of Washington's policy response has dropped to approximately zero." But the Republican opposition is still leading anyway, as the Associated Press explained:
From a group of 16 GOP senators gun control advocates have considered possible allies, at least nine have now said they oppose the background check compromise and one said he is leaning against it.

Combined with the 31 senators who voted against debating the overall gun bill last week, that could bring potential opponents of expanding background checks to 41 — just enough votes to block the Senate from considering the compromise.
Just three Republicans have said so far that they will support background checks: Susan Collins of Maine, Mark Kirk of Illinois, and Patrick Toomey of Pennsylvania, the co-sponsor of the amendment. Two Democrats in red states, Mark Begich of Alaska and Mark Pryor of Arkansas, are still undecided. The Washington Post has a breakdown of the likely votes. And even if they somehow pull it off and pass the background check amendment, then the bill goes to the GOP-controlled House, where anything can happen.