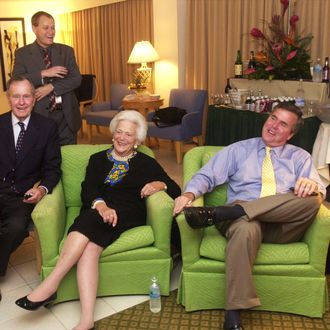 Barbara and Jeb in happier times.
Photo: Joe Burbank/Pool/Getty Images
When asked by Nightline whether his brother Jeb should run for president in 2016, George W. Bush (whom you're suddenly seeing a lot of because his presidential library debuts today) emphatically endorsed the idea. "He doesn't need my counsel because he knows what it is: run!"
Laura Bush was similarly enthusiastic on the Today show this morning. "Sure, he'd be terrific!" she told Matt Lauer. 
Then Lauer posed the question to the Bush family's 87-year-old matriarch, the no-nonsense Barbara Bush. And she poured enough cold water on her son's potential candidacy to give it hypothermia. 
"He's by far the best qualified man," she began, "but, no, I really don't [think he should run]." 
Bush's explanation sounded like something you'd see on an anti-Jeb bumper sticker. 
"I think it's a great country, there are a lot of great families, and, it's not just four families or whatever," she said, possibly alluding to the Clintons as well. "There are other people that are very qualified, and we've had enough Bushes."
Sorry, Jeb. You've been grounded.