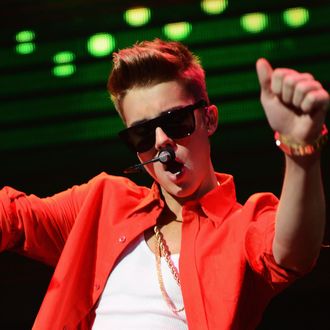 Justin Bieber would have really confused people in 1945.
Photo: Michael Kovac/Getty Images
Justin Bieber is a talented singer, dancer, and large-gold-chain wearer, but his guest-book-signing skills can use some work. "Truly inspiring to be able to come here. Anne was a great girl," he wrote in the guest book of the Anne Frank House in Amsterdam over the weekend. "Hopefully she would have been a belieber."
The message was at once confusing and self-absorbed. Would she be a Bieber fan as an elderly woman? Or as a young girl in 2013, had she been born decades later? Or as a young girl in 1945, had Bieber existed back then? And why are you even talking about yourself right now? This is not about you, Bieber. 
As a reminder that not all famous people are only capable of viewing the events of the Holocaust through the lens of their own celebrity, here are ten of them who managed to sign the guest book of the Anne Frank House without controversy.