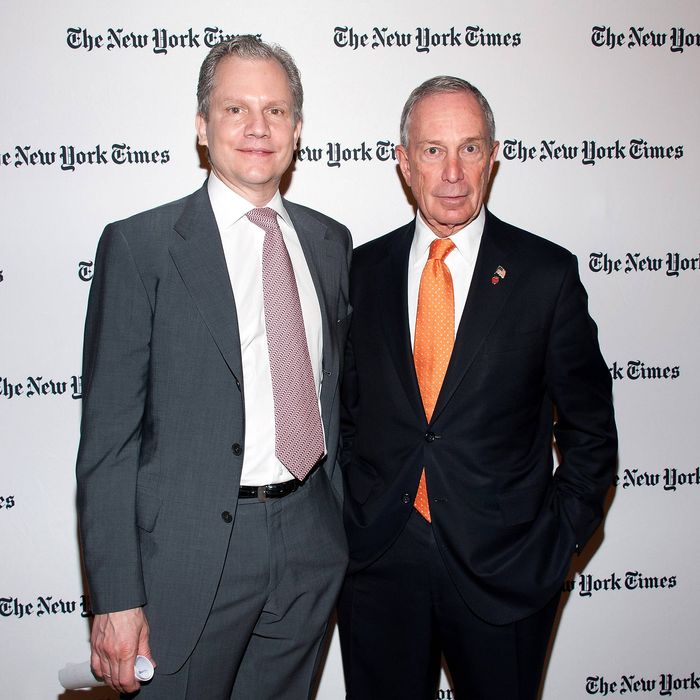 Mayor Bloomberg with
Times
publisher Arthuer Sulzberger, Jr.
Photo: D Dipasupil/Getty Images
During a speech today denouncing legislation that would create an inspector general for the NYPD and allow people to sue for racial profiling arising from stop-and-frisk stops, Mayor Bloomberg briefly veered into the realm of media criticism. Though the Times accuses Bloomberg of racist policing tactics, the paper doesn't seem to care when black kids are murdered, Bloomberg alleged with evident disdain:
"Last week Bronx resident Alphonza Bryant was shot and killed while standing with friends near his home. He was 17. Like most murder victims in our city, he was a minority …. Alphonza was a person — he had a loving mother, family, friends. It does not appear that he was even the intended target of the shooters. He was just a victim of too many guns on our streets. But after his murder there was no outrage from the Center for Constitutional Rights or the NYCLU. There was not even a mention of his murder in our paper of record, the New York Times. 'All the news that's fit to print' did not include the murder of 17-year-old Alphonza Bryant. Do you think that if a white, 17-year-old prep student from Manhattan had been murdered, the Times would have ignored it? Me neither. I believe that the life of every 17-year-old and every child and every adult is precious."
Mayor Kanye Bloomberg went on to note, "Four days after Alonzo Bryant's [sic] murder went unreported by the Times, the paper published another editorial attacking stop, question, and frisk," presumably because they want more black people to be killed by illegal guns. 
Update: A Times spokesperson tells Politico:
Mayor Bloomberg is trying to deflect criticism of the City's stop-and-frisk practice by accusing The New York Times of bias. Among those critical of the practice is The New York Times editorial board, which is separate from the news side of the newspaper. The Times aggressively covers violence in the city's neighborhoods, and to select one murder as evidence to the contrary is disingenuous. His claim of racial bias is absurd.