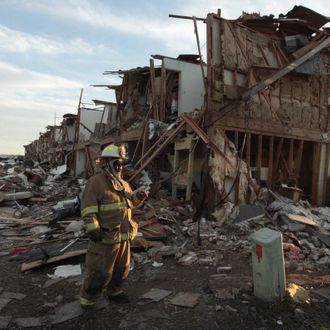 Twelve bodies were recovered in West, Texas, where a massive explosion at a fertilizer plant killed several, injured hundreds, and leveled blocks of buildings. Mayor Tommy Muska said on Thursday that some 35 to 40 people had likely died, but authorities have only recovered eight to ten bodies from the wreckage surrounding the plant, the Dallas Morning News reports. Muska said he had based his count on those still unaccounted for after the blast. He included "as many as six firefighters and four emergency medical technicians" in that number, the Los Angeles Times reports. The Waco Tribune estimated more first responders had died: "Thursday evening authorities began removing the bodies of what are expected to be 12 firefighters from the smoldering crater that was West Fertilizer Co. and more bodies of residents in the complex, said longtime West Justice of the Peace David Pareya."
Searchers still hadn't finished scouring the disaster area late on Thursday, the Morning News reports. They had gotten to about 80 percent of the affected area, including an apartment building and a nursing home, but they hadn't yet made it into the fertilizer plant itself.
Per the Tribune: "Authorities also found two bodies in the apartment complex, a man and woman whose names are being withheld pending notification of relatives. Rescuers haven't yet been able to search the second floor of the complex, but expect to find two to three more bodies there, [West Justice of the Peace David] Pareya said."
A doctor described most of the injuries to the Times as "blast wounds," meaning "soft tissue and skin lacerations, large and small wounds, and abdominal injuries," compounded by debris that blew into eyes. 
In the town of 2,800, where many city officials are also volunteer firefighters, the dead are not strangers. "I am probably going to know every one of them," one witness told the Tribune.