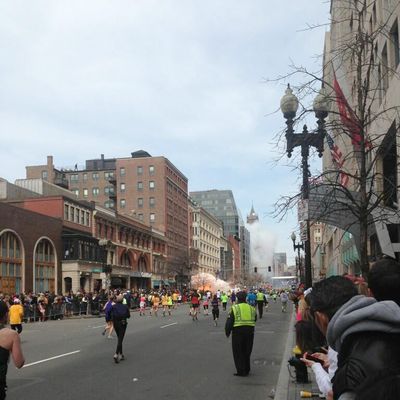 Two explosions reportedly went off at the finish line of the Boston Marathon today, killing at least two people and injuring dozens more, according to authorities. Dispatches and photographs from the scene have poured in on social media showing smoke and destruction. A third explosion, which has not been definitively linked to the marathon attack, was confirmed at the JFK Library in Boston. Fox 25 Boston has live video coverage, and we'll keep this post updated as the situation develops.
Update 12:46 a.m.: The Boston Globe's Teresa Hanafin reports, "The police, FBI, and ATF officials who were gathered at an apartment building in Revere have left the scene without talking to reporters."

Update 11:44 p.m.: A law enforcement source tells Boston's FOX affiliate that police are searching an apartment complex in Revere, a town about five miles from downtown Boston, in connection with the bombing. The Boston Herald reports "In addition to two Boston Police K-9 units and a bomb squad unit, a large contingent of federal agents from the FBI, Immigration and Customs Enforcement, as well as Homeland Security investigations and state police had assembled at the two buildings."

Update 11:38 p.m.: Matthew Keys has another look at the first blast.

Update 10:27 p.m.: The Associated Press reports that the runner shown knocked to the ground in what's quickly become an iconic photo of the bombing is 78-year-old Bill Iffrig of Washington state. Luckily, he only suffered a scraped knee, and was able to walk across the finish line and then another half-mile to his hotel. "It's horrible," said his son, Mark Iffrig. "He said it was quite a concussive blast. He was a little dazed. Someone helped him up."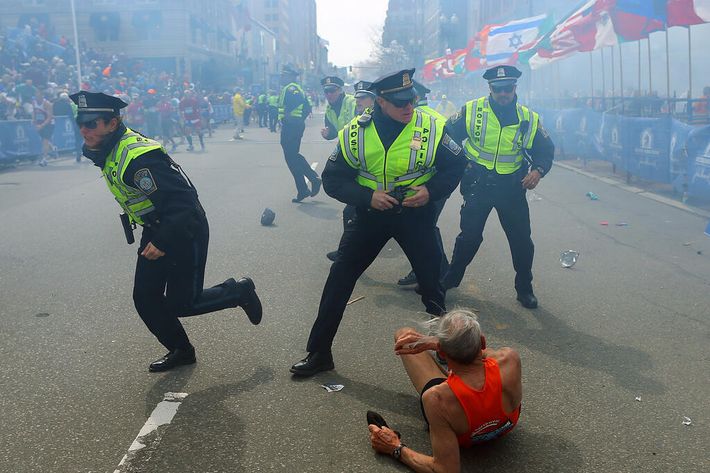 Update 9:58 p.m.: The New York Times notes that that this week "has sometimes been seen as significant for radical American anti-government groups." April 15 is both Tax Day and Patriot's Day, a Massachusetts holiday, and April 19 is the anniversary of the 1993 fire near Waco, Texas that ended in a standoff with the Branch Davidians and the 1995 Oklahoma City bombing.
Update 9:33 p.m.: At a news conference around 8:45 p.m, officials from the Boston area said the death toll is now at three. Boston Police Commissioner Edward Davis shot down the rumors of a Saudi national being held in a local hospital, saying "I want to stress one thing. There is no suspect at Brigham and Women's Hospital."

Update 7:23 p.m.: People are turning the attack into memes. The internet really is the worst place that has ever existed.
Update 7:12 p.m.: The Times is reporting that three other explosive devices were found, not two. Assume all reports of unexploded devices to be unverified for now.
Update 7:07 p.m.: The latest tally from the AP has 105 people injured, at least 15 of them critically.
Update 7:04 p.m.: An Islamic extremist in Jordan is pretty pumped about the bombing today, in case you were wondering. "Let the Americans feel the pain we endured by their armies occupying Iraq and Afghanistan and killing our people there," Mohammad al-Chalabi said.
Update 7:00 p.m.: The House just observed a moment of silence which lasted for 12 seconds.
Update 6:59 p.m.: Flags will be flown at half mast at the Capitol tomorrow.
Update 6:52 p.m.: ABC News is reporting that the bombs were detonated remotely.
Update 6:48 p.m.: CBS is reporting that police have a Saudi national in custody, and CBS Boston adds that he was seen running away from the explosion. Keep in mind, though, that "running away" is perhaps the least suspicious activity one can have to an explosion.
Update 6:39 p.m.: An eight-year-old is reportedly one of the casualties.
Update 6:36 p.m.: CBS Boston is reporting that police are questioning someone who "is possibly related to the bombings."
Update 6:35 p.m.: Cooroborating earlier reports, Congressman Bill Keating says that two additional unexploded bombs were found and dismantled.
Update, 6:14 p.m.: In a statement from the briefing room of the White House, President Obama said, "We don't yet have all the answers, but we do know that multiple people have been wounded, some gravely, in explosions at the Boston Marathon."
"All Americans stand with the people of Boston," he said.
"We still do not know who did this or why, and people shouldn't jump to conclusions before we have all the facts," said Obama. "But make no mistake, we will get to the bottom of this. We will find out who did this and why they did this. Any responsible individuals, any responsible groups, will feel the full weight of justice."
Update, 6:08 p.m.: Police Commissioner Ed Davis, in a brief press conference with Mayor Menino and Governor Patrick, said, "There is no suspect in custody," but could mean that no one has technically been arrested or charged. He added that initial comments linking the JFK Library incident to the Marathon attack may have been "premature."
Senator Diane Feinstein, head of the Intelligence Commitee, said separately "It is a terrorist incident … It could be foreign, it could be home grown." The FBI is also calling the attack a "terrorist" act.
Update, 5:55 p.m.: A BPD spokesperson is now saying the incident at JFK Library "appears to be fire related."
Update, 5:42 p.m.: NBC News, citing officials, says the Boston PD are "guarding" a "possible suspect" at the hospital. Fox News confirms that a "person of interest" is being held.
Only the New York Post is identifying the "suspect" as a 20-year-old "Saudi Arabian national," who is "under guard at an undisclosed Boston hospital" with severe burns.
A police spokesperson told Talking Points Memo, carefully, "At this time, we haven't been notified of any arrests or anyone apprehended," and added, of the Post, "Honestly, I don't know where they're getting their information from, but it didn't come from us."
Update, 5:10 p.m.: The AP reports, "A law enforcement official says cellphone service has been shut down in the Boston area to prevent any potential remote detonations of explosives." (Update: Cell phones are experiencing "heavy traffic," but service has not been turned off.)
The Globe has video of the finish line at the moments of detontation:
The second blast was apparently caught on camera from another angle moments after the first:
Update, 4:57 p.m.: Boston Police Commissioner Ed Davis said at a press conference that two simultaneous explosions occurred at 2:50 p.m., about 50 to 100 yards apart. "Each scene resulted in multiple casualties," he said.
Davis also confirmed a "third incident," an explosion at JFK Library about five miles away. While the two events have not been directly linked, "we are treating them as if they are," he said.
Asked if the attacks were an act of terrorism, Davis said, "We're not being definitive, but you can draw your own conclusions."
Update, 4:50 p.m.: Massachusetts Governor Deval Patrick has released a statement: "This is a horrific day in Boston. My thoughts and prayers are with those who have been injured. I have been in touch with the President, Mayor Menino and our public safety leaders. Our focus is on making sure that the area around Copley Square is safe and secured. I am asking everyone to stay away from Copley Square and let the first responders do their jobs."
The tally of those injured has risen to 64.
Update, 4:23 p.m.: The Associated Press reports that two additional explosive devices were found near the marathon and are "being dismantled."
Intelligence officials told NBC News "that there were several explosive devices at the scene, at least two of which detonated. Members of the bomb squad also made a 'controlled blast' of another explosive device."
Update, 4:19 p.m.: The Boston Globe's website is currently down, but reporters are liveblogging here, with additional information available on Twitter. The Boston Police Department is tweeting updates, as well.
A press conference is scheduled for 4:30 p.m.
Update, 4:06 p.m.: The latest public information from Boston Police counts at least two dead and 23 people injured.
Update, 3:58 p.m.: The Boston Marathon confirms in a statement, "There were two bombs that exploded near the finish line in today's Boston Marathon. We are working with law enforcement to understand what exactly has happened."
Update, 3:42 p.m.: Networks are playing footage from various angles at the apparent time of impact:
Update: 3:37 p.m.: Fox News is reporting at least three people dead, citing police sources.
The NYPD is increasing security and has deployed counter-terrorism vehicles to landmarks around the city, Reuters reports.
Update, 3:30 p.m.: The Wall Street Journal reports, "About three hours after the winners crossed the line, there was a loud explosion on the north side of Boylston Street, just before the photo bridge that marks the finish line."
A witness said, "Just a big bomb, a loud boom, and then glass everywhere. Something hit my head. I don't know what it was. I just ducked."
Reuters: "There was an explosion, police, fire and EMS are on the scene. We have no indication of how many people are injured," a spokeswoman for the Boston Police Department said.
Update, 3:20 p.m.: According to the first Associated Press report, "There were two booms heard from near the finish line inside the Fairmount Copley Plaza Hotel. Race officials locked down the hotel because of the report. The sound of two booms, which sounded like thunder, had come a short time earlier."
Photographs and details from the event (warning: some are graphic):
Via Instagram: