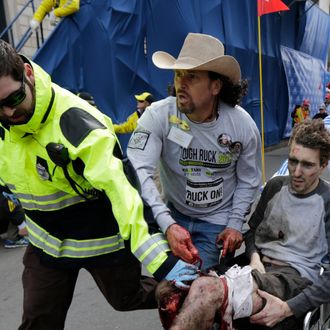 Carlos Arredondo, in the cowboy hat, and Jeff Bauman in a wheel chair.
Photo: Charles Krupa
The photo of "Cowboy Hat Hero" Carlos Luis Arredondo is already famous worldwide, and it turns out there's another reason it will go down as one of the most iconic images from the attack. Jeff Bauman, the man in the wheelchair, identified one of the suspects to the FBI. The 27-year-old was in the crowd waiting for his girlfriend to finish the race, and as Bloomberg reports, "Minutes before the bombs blew up in Boston, Jeff Bauman looked into the eyes of the man who tried to kill him."
Bauman saw a man in a baseball cap, sunglasses, and a black jacket over a hooded sweatshirt look at him, then drop a bag by his feet. Two and a half minutes later, there was a blast and Bauman was in a wheelchair, with Arredondo pinching one of his severed arteries and telling him to do the same on the other leg. Arredondo and the other first responders saved Bauman's life, but he lost both his legs below the knee.
Bauman was the first person in surgery at Boston Medical Center. "He woke up under so much drugs, asked for a paper and pen and wrote, 'bag, saw the guy, looked right at me,'" said Chris Bauman, his brother. While the FBI won't comment on specific tips, Chris Bauman says Jeff met with FBI agents while he was still in intensive care and gave them a detailed description of the suspect. While sifting through hours of footage could have taken weeks, the information allowed the FBI to release photos of the two suspects just three days after the attack.