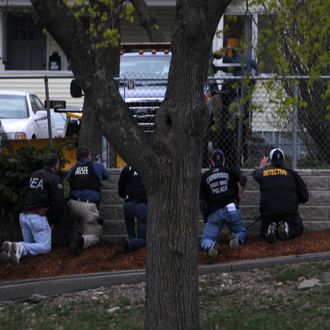 Photo: Darren McCollester/2013 Getty Images
Authorities now believe that in addition to at least five homemade pipe bombs, Dzhokhar and Tamerlan Tsarnaev were in possession of at least four guns during their assault on Boston last week. Nineteen-year-old Dzhokhar, when he was apprehended in a Watertown backyard, was reportedly armed with an M-4 carbine rifle — "a weapon similar to ones used by American forces in Afghanistan," the Times reports. The night before, the brothers fired about 80 rounds in a shootout with police officers, using two handguns and a BB gun. It appears neither brother was licensed.
"The younger brother could not have applied as he is not 21 years of age and the older brother did not have a license to carry and we have no record of him ever applying," said a Cambridge Police Department spokesperson. While Dzhokhar could have been licensed to own a shotgun or rifle holding at most ten rounds, he was not licensed in Dartmouth, where he attended college, either.
It was just last week, remember, that the Senate shot down a plan to expand background checks. "Among the unanswered questions facing investigators are where the suspects acquired their weapons and explosives, how they got the money to pay for them, and whether others helped plan and carry out the attack last Monday," the Times reports. When those answers do come, maybe it will be time to talk, once again, about gun control, in one form or another.