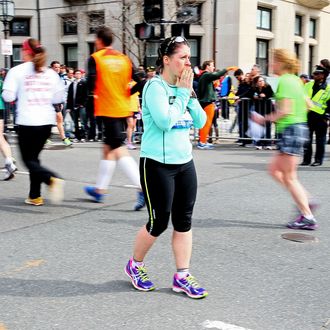 Photo: Alex Trautwig/2013 Getty Images
Hours after two bombs went off near the finish line of the Boston Marathon on Monday afternoon, no group has claimed responsibility and there's still no explanation for what Anderson Cooper described as "the first mass casualty terror attack on American soil in a dozen years." What we do know is the explosions left three people dead and well over 100 injured. CNN reports that an 8-year-old boy was among those killed, and hospitals say at least 132 are being treated for their injuries, with at least 17 of the injured in critical condition. "It was just immediately [evident] there were injuries, right in the middle of the spectator crowds," said boston.com sports producer Steve Silva, who was on the scene. "There was blood everywhere; there were victims being carried out on stretchers. I saw someone lose their leg. People are crying. People are confused."
The two blasts in Boston's Back Bay section occurred almost simultaneously at around 2:50 p.m., knocking down runners and spectators, and leaving blood and shards of glass covering the sidewalk. About an hour later a fire broke out at John F. Kennedy Library, but Boston Police Commissioner Edward Davis said later that the incident appears to be unrelated. According to the New York Times, authorities found at least three other unexploded devices, including one at St. James and Trinity Streets and another in Newton, a town outside of Boston.
In a statement on Monday evening, President Obama said:
We still do not know who did this or why and people shouldn't jump to conclusions before we have all of the facts. But make no mistake, we will get to the bottom of this and we will find out who did this, we will find out why they did this. Any responsible individuals, any responsible groups will feel the full weight of justice.
While Obama did not use the word "terrorism" in his remarks, a White House official told Bloomberg News, "Any event with multiple explosive devices — as this appears to be — is clearly an act of terror," and said the investigation is being treated as such. Throughout the afternoon, various media outlets reported that a Saudi national was being held by authorities in a Boston-area hospital. Talking Points Memo has a good summary of the conflicting rumors, but at a press conference just before 9 p.m., Davis said "I want to stress one thing. There is no suspect at Brigham and Women's Hospital." Nevertheless, the speculation continues.