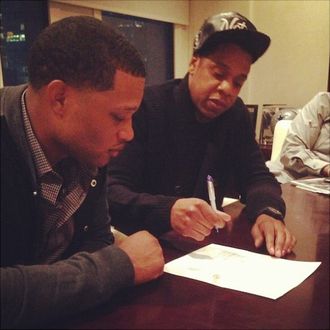 A Yankee (left) and a man who made the Yankee hat more famous than a Yankee can (right).
You may recall that two years ago, well before he was set to hit the free-agent market, Robinson Cano signed with super-agent Scott Boras. This wasn't seen as good news for the Yankees: Boras has a reputation as a particularly ruthless agent, and there was a fear that the move could ultimately result in the second baseman playing elsewhere beginning in 2014 (or, at the very least, with Boras taking him to free agency and driving up his price even more than the average agent). But today brings news about Cano's representation: He's leaving Boras to sign with Roc Nation Sports, an agency founded by Jay-Z through a partnership with CAA. So what does this all mean? Here, now, some questions, and some answers.
So will Jay-Z personally be doing the negotiation?
As per Roc Nation Sports' announcement, "Cano will be represented on the field by a team of agents led by CAA Sports' Brodie Van Wagenen." Via River Avenue Blues, Van Wagenen's other clients at CAA include Ryan Zimmerman, Carlos Quentin, Ryan Howard, and Drew Storen.
Can we learn anything from past Roc Nation Sports negotiations?
No, because Cano is their first client.
The Yankees have already made an offer to Cano, right?
Yes. The Yankees generally don't discuss extending the contracts of players still under contract, but they made an exception for Cano. Brian Cashman called their offer "significant," but reportedly, no negotiation ever took place after they presented it. (Boras, who was still represting Cano at the time, didn't say much publicly about the offer. "Robinson is focused on preparing for and playing the 2013 season," he'd told Jon Heyman in February. "By agreement, discussions shall remain confidential. Also by agreement, discussions will cease if they are a distraction to Robinson's performance and leadership of the 2013 Yankees.")
Do the Yankees think this is a good sign?
Publicly they're downplaying it, but via Joel Sherman, they know it increases their chances of retaining Cano beyond 2013.
Does everyone else think this is a good sign?
For the most part. Heyman tweets that it looks "like a tell he badly wants to stay a Yankee," and quotes an ex-teammate who says, "He's not going anywhere." The Yankees, conscious of their $189 million budget for 2013 but also desperate to keep their best hitter, would not have wanted to see Boras across the table from them in negotiations. He's notorious for taking his clients into free agency, leading to bidding wars that drive up their price. That's his job, of course, but if Cano does have a destination in mind, it's possible that this move suggests he's looking not just for a huge payday but for the right fit. And one assumes that if he really does want to remain a Yankee, the two sides could come to a lucrative, but fair, agreement — especially since the Yankees are willing to discuss a new deal while he's still under contract. Take note: As River Avenue Blues points out, "Nearly every star CAA client has signed an extension in advance of free agency." And come on, surely this guy wants Cano to remain a Yankee at a reasonable price, right?
So what's the potential downside here?
At SB Nation, Steven Goldman writes about the wisdom of signing Cano to the type of long-term deal he's in position to get from the Yankees, even without testing the free-agent market. Now that the Yankees aren't willing to spend to infinity, such huge contracts destroy their flexibility. And though Cano's in his prime now, he won't remain there for the duration of his next contract. (Goldman writes that we should notice a difference in Cano, currently age 30, in the next three or four years.) Writes Goldman:
The irony of Cano being represented by Boras was that, as much as they might have dreaded dealing with him, had he succeeded in getting Cano to test the market, he might have protected the Yankees from their own self-destructive impulses. Now that he's gone and Cano has, presumably, more conciliatory representatives in Jay-Z and Van Wagenen, they're in much deeper trouble.
Pretty much every other team has always been faced with conundrums like this, but it's new for the Yankees, now that they're keeping an eye on their budget. Is it worth signing a player in his prime to huge money, even if he'll be past his prime by the end of the deal, but still making huge money? Once upon a time, the Yankees were fine with this. (See: A-Rod's current contract.) And in all likelihood, they still are fine with it, if it's for the right player. They likely see Cano as that type of player, and so if they are indeed willing to spend good money (within reason) to keep him, it appears more likely they'll be able to make that happen now.