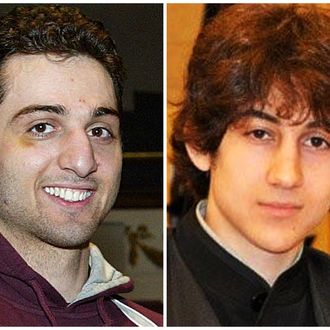 "I don't want to be a famous person talking on the TV," says "Danny," the man who was carjacked by the Tsarnaev brothers, explaining why we're only hearing the story of his harrowing 90-minute drive through the Boston suburbs almost exactly a week later. The 26-year-old Chinese entrepreneur agreed to be interviewed by the Boston Globe, on the condition that they only identify him by his nickname. "The story of that night unfolds like a Tarantino movie, bursts of harrowing action laced with dark humor and dialogue absurd for its ordinariness, reminders of just how young the men in the car were," says the Globe — and there's suspense, a love story, and a happy ending to boot.
Danny's account clears up many of the lingering questions about the events that led to the manhunt. Tamerlan was the brother who climbed into Danny's Mercedes SUV while holding a silver handgun, and after identifying himself as one of the Boston bombers, he said, "And I just killed a policeman in Cambridge."
Tamerlan ordered Danny to drive, and his brother Dzhokhar followed in another car. After they stopped to move something from the car to the SUV's trunk, Tamerlan took the wheel and Dzhokhar joined them.

Throughout the ordeal Danny was frantically looking for an opportunity to escape, and trying to concoct a story that would make them less likely to kill him. Danny said he thought about everything he still wanted to accomplish in life, and a woman who lives in New York, who he secretly had a crush on. "I think, 'Oh my god, I have no chance to meet you again,'" he said.
Danny said he was a student who had only been in the country for a few months, while he actually came to the U.S. from China to earn a master's degree at Northeastern University, graduated in 2012, and recently opened a business in Cambridge. "Chinese are very friendly to Muslims!" Danny said while talking with his captors about their backgrounds. "We are so friendly to Muslims." They also had this exchange, which seems odd, considering Tamerlan had already admitted to murder and an act of terrorism, and their faces were plastered everywhere:
"Don't look at me!" Tamerlan shouted at one point. "Do you remember my face?" "No, no, I don't remember anything," he said. Tamerlan laughed. "It's like white guys, they look at black guys and think all black guys look the same," he said. "And maybe you think all white guys look the same."
Backing up the reports that the brothers planned to set off bombs in Times Square, Danny overheard them say "Manhattan" while speaking in Russian. They also asked if the car could be driven out of state. "What do you mean?" Danny said. "Like New York," answered one of the brothers.
Danny finally saw his chance to escape when they pulled into a gas station that was "cash only," forcing Dzhokhar to go inside. Tamerlan put his gun down to play with a navigation device, and Danny bolted from the car. He called the police from a Mobil station across the street, noting that they could use his iPhone and a two-way Mercedes satellite system to trace the car.
It's terrifying to think what might have happened if Danny hadn't escaped and alerted the police, but he isn't comfortable with the praise he's received for his role in capturing the bombing suspects. "I don't feel like a hero," he says. "I was trying to save myself." Though, hopefully he's getting a little mileage out of his ordeal. The Globe reports that when it was announced that Dzhokhar had been caught, "Danny was on the phone at the time, talking to the girl in New York." There's no way that story doesn't earn him a date.